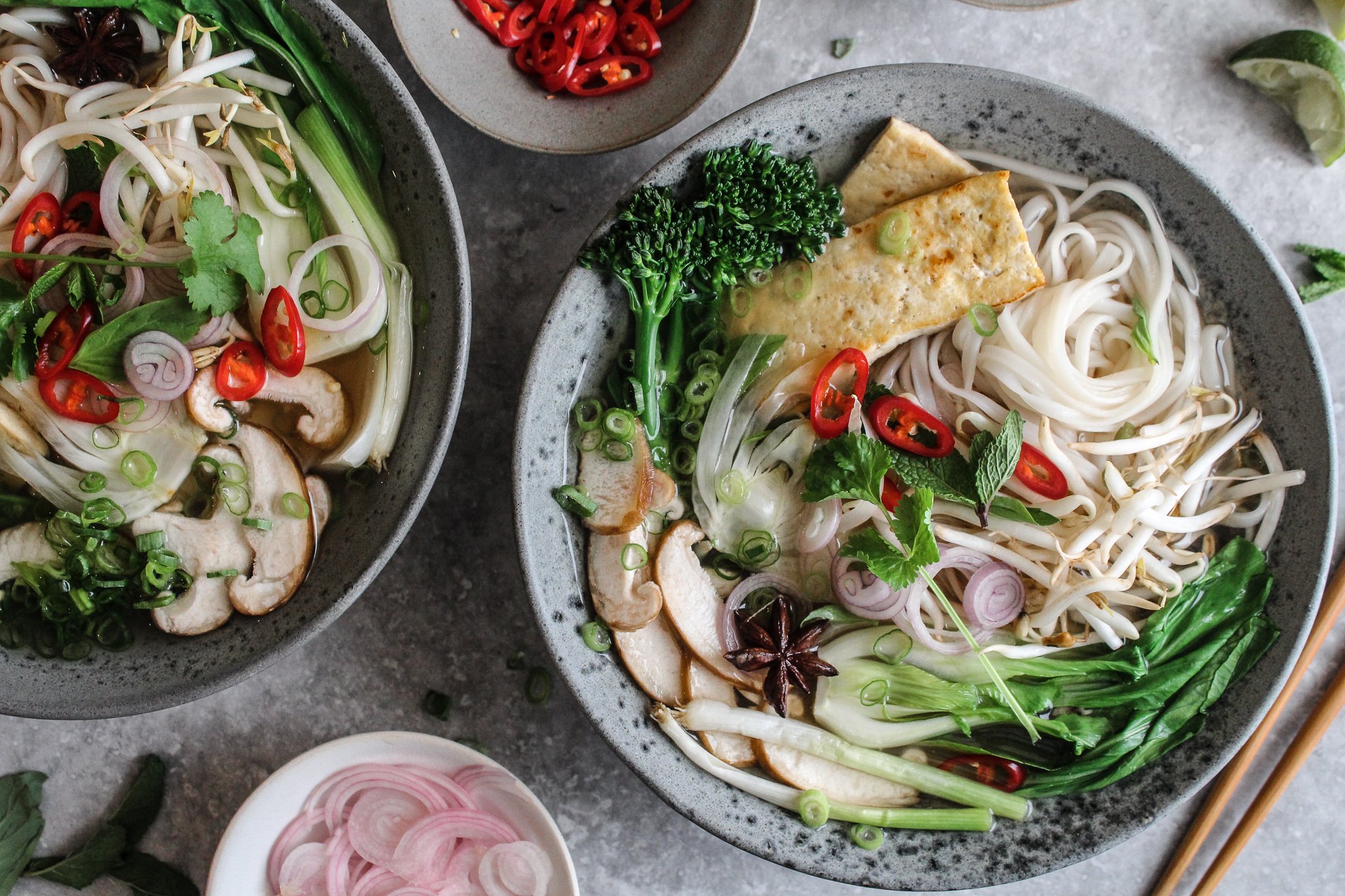 ---
I could sometimes slurp up a big bowl of this broth all on it's own and it really is the key to making a good Vietnamese Pho. The star anise gives it such a distinctive sweet taste and liquorice-like aroma and is a very dominant flavour across all Vietnamese dishes. This recipe is wonderfully nourishing and feels like it's cleansing your insides with every sip. You can play around by using different veggies and the tofu works well as it soaks up the flavourful broth. Traditionally, the broth is made using fish sauce but as I have made this a vegan recipe, I used tamari as a substitute. This is honestly a dish I could eat most days! Hope you enjoy it!
---
prep time: 20 minutes cook time: 45 minutes serves: 4
---
INGREDIENTS
2 cinnamon sticks
2 star anise
5-inch piece of fresh ginger ~ peeled and cut lengthways into thirds
2 cloves of garlic ~ peeled and left whole
1/2 tsp whole cloves
1 large white onion ~ cut into quarters
1 litre/4 cups of filtered water
1 litre/4 cups vegetable stock
3 Tbsp os tamari (gluten free) or soy sauce (not gluten free)
1/2 Tbsp avocado oil
2 baby bok choy ~ cut lengthwise into halves
1/2 bulb of fennel ~ finely sliced with a mandolin
30g/1/2 cup shiitake mushrooms ~ thinly sliced
6 spring onion ~ finely sliced (use half for the garnish)
80g (about 6 stems) of tender stem broccoli
200g flat rice noodles
200g tofu ~ sliced
TO GARNISH
1 lime ~ quartered
handful of mung bean sprouts
1 red chilli ~ deseeded and finely sliced
1 banana shallot ~ finely sliced
small bunch of fresh mint leaves
small bunch of coriander
small bunch of fresh basil leaves
spring onions ~ finely sliced
METHOD
In a large saucepan over low heat, add the star anise, cinnamon sticks, cloves and ginger and keep stirring until they become fragrant (about 3 minutes)
Add the water, vegetable stock, tamari, onion and garlic, bring to the boil, reduce the heat and simmer for about 30 minutes to allow flavours to meld.
In the meantime, prepare the rice noodles by cooking them according to packet instructions. Rinse with cold water to stop them over cooking and sticking together. Set them aside.
Heat some oil over medium heat in a frying pan and add the shiitake mushroom. Cook for roughly 5 minutes until they are slightly brown. Remove from the pan and set aside. In the same pan, heat a little more oil over medium heat and add the tofu slices. Cook for 3-4 minutes on each side until lightly browned.
Strain the broth and return liquid back to the pan on low to medium heat. Add the broccoli stems and cook for 4-5 minutes until they turn bright green. Then add the bok choy, fennel and half the spring onions and cook for a few more minutes.
To serve up, add the noodles to deep bowls then with a ladle, pour the hot broth and vegetables over the noodles. Add the shiitake mushrooms and tofu and then top with all the delicious garnish!

---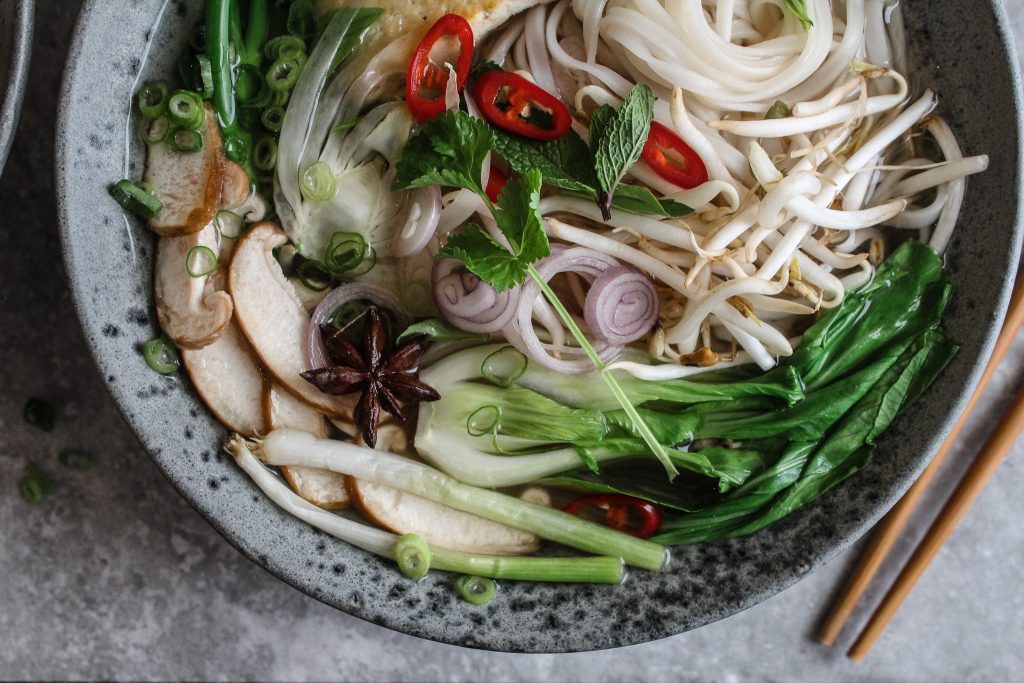 ---