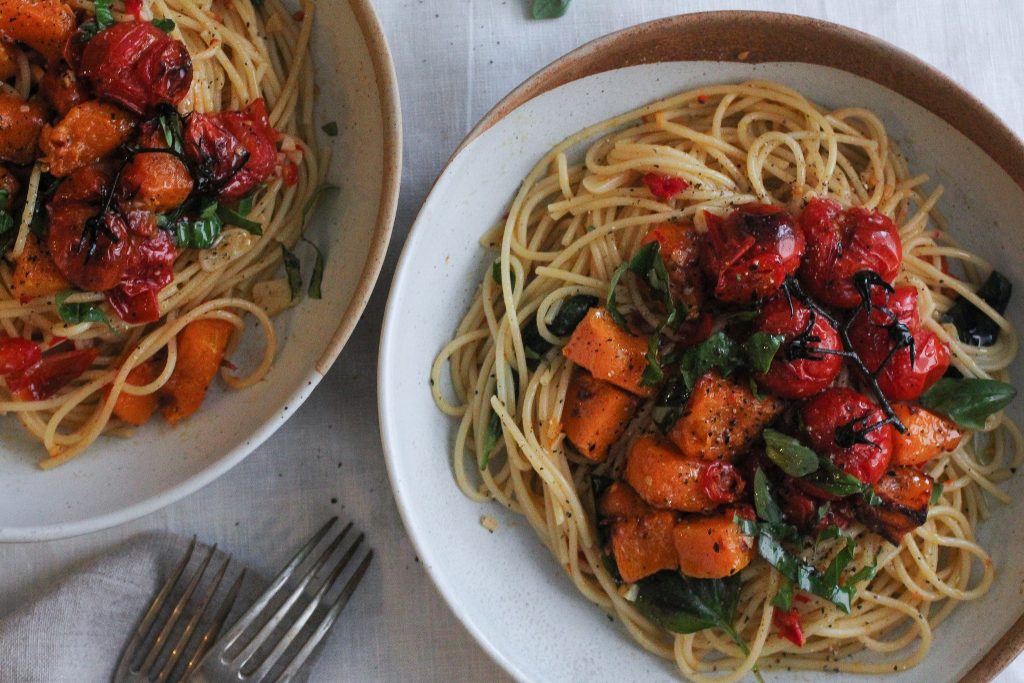 ---
This dish is the ultimate comfort. I often have a hankering for a big bowl of pasta and it works so well with a simple base of chilli garlic and olive oil. The sweetness of the squash marries well with the acidity of the slow roasted tomatoes and a hint of basil gives it a wonderful freshness. It's an easy dish that will suit most palates! An all round pleaser i'd say. Hope you enjoy!
---
prep time: 15 mins cook time: 40 mins serves: 4
---
INGREDIENTS
300g spaghetti
150g/1 cup butternut squash (peeled & cut into cubes)
200g piccolo tomatoes
1.5 red chili (Jalapeño) – finely chopped
4 cloves garlic – finely chopped
4 Tbsp olive oil
1 Tsp dried chilli flakes
Handful of basil leaves – chopped
Black pepper & Himalayan salt to season
METHOD
Pre heat oven to 200°C /180°C / gas 6
Place the squash in a baking tray and toss in a little of the olive oil, chilli flakes and season with salt and black pepper. Pierce the skins of each tomato. This will stop them bursting in the oven!
Roast the squash for 20 minutes in the preheated oven, then remove from the oven and add the tomatoes. Drizzle with a little more olive oil and return to the oven for another 20 minutes until the squash is tender and lightly browned and the tomatoes start to blister and release their juices. Remove from oven and set aside.
Whilst the squash and tomatoes are in the oven, in a large frying pan, over medium heat, add a table spoon of olive oil. Add the chilli and cook for a few minutes until the oil starts to colour.
Turn the heat down slightly and add the garlic for a few more minutes. Be careful here not to over cook, as it will give the garlic a bitter taste. Turn off the heat and set aside.
In a large pan, bring water to the boil, add a pinch of salt and then add the spaghetti. Cook for about 8 minutes or as per the packet instructions. You want the pasta to be al dente!
Drain the cooked pasta in a colander and add to the frying pan with chilli and garlic. Turn the heat on low, add the squash and tomatoes (keep some back to top the pasta once served), a drizzle of olive oil and quickly toss it all until mixed. Careful here not to cook the pasta any more.
Serve in pasta bowls, top with the left over squash and tomatoes and add the chopped basil. Season with salt and pepper to taste. You can also add some grated parmesan here to give it an extra flavour boost. Swirl the goodness around a fork and enjoy!
NUTRITIONAL BROWNIE POINTS
Tomatoes are a rich source of lycopene which is known for it's skin protective properties. Evidence shows that lycopene can protect the skin against sunburn by increasing the skins defence against UV light mediated damage. Studies have also demonstrated lycopene to be protective against many other chronic diseases including cancer and cardiovascular disease.
Both basil and squash contain high levels of the carotenoid beta-carotene, a precursor to vitamin A, which is a key player in immunity. Beta carotene is also a potent antioxidant and free radical scavenger working to protect our DNA from oxidative damage

---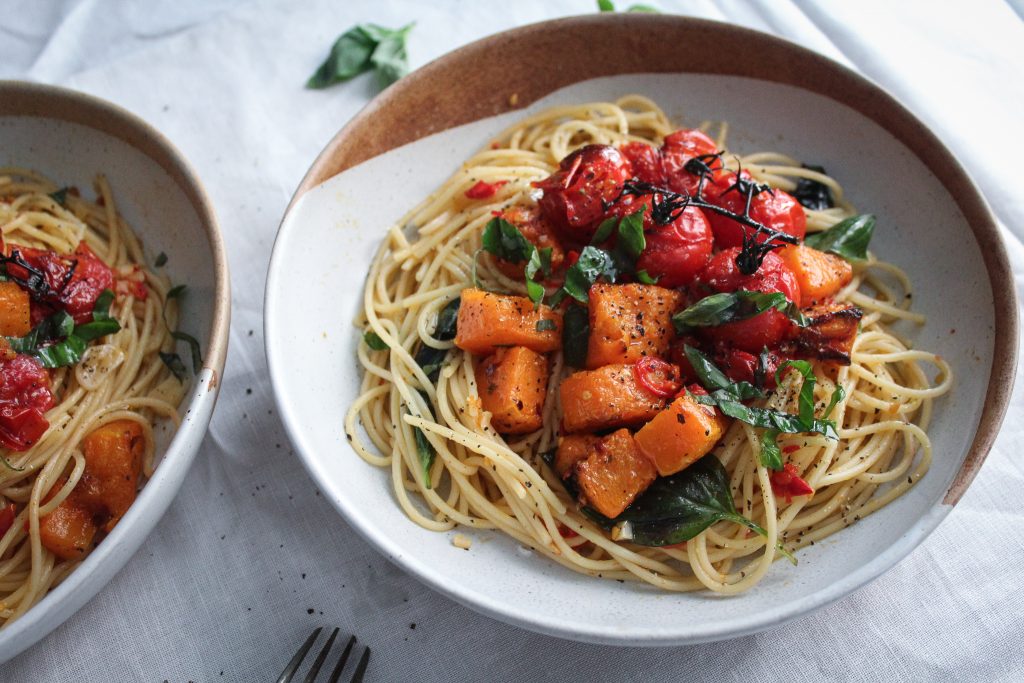 ---
References:
Rinnerthaler, M. Bischof, J. Richter, K. (2015). 'Oxidative Stress in Aging Human Skin', Biomolecules, (2), pp.545-589.
Ross, C.A. (2012). 'Vitamin A and retinoic acid in T cell-related immunity1,2,3,4', American Journal of Clinical Nutrition, (5), pp.1166S-1172S.
Schagen, S.K. Zampeli, V.A. Zouboulis, C.C. (2012). 'Discovering the link between nutrition and skin aging', Dermato-endocrinology, (3), pp.298-307.
Souyoul, S.A. Saussy, K.P. Lupo, M.P. (2018). 'Nutraceuticals: A Review', Dermatology and Therapy, (1), pp.5-18.
Story, E.N. Kopec, R.E. Harris, K. (2010). 'An Update on the Health Effects of Tomato Lycopene', Annual review of food science and technology, (10), pp.102308-124120.
---