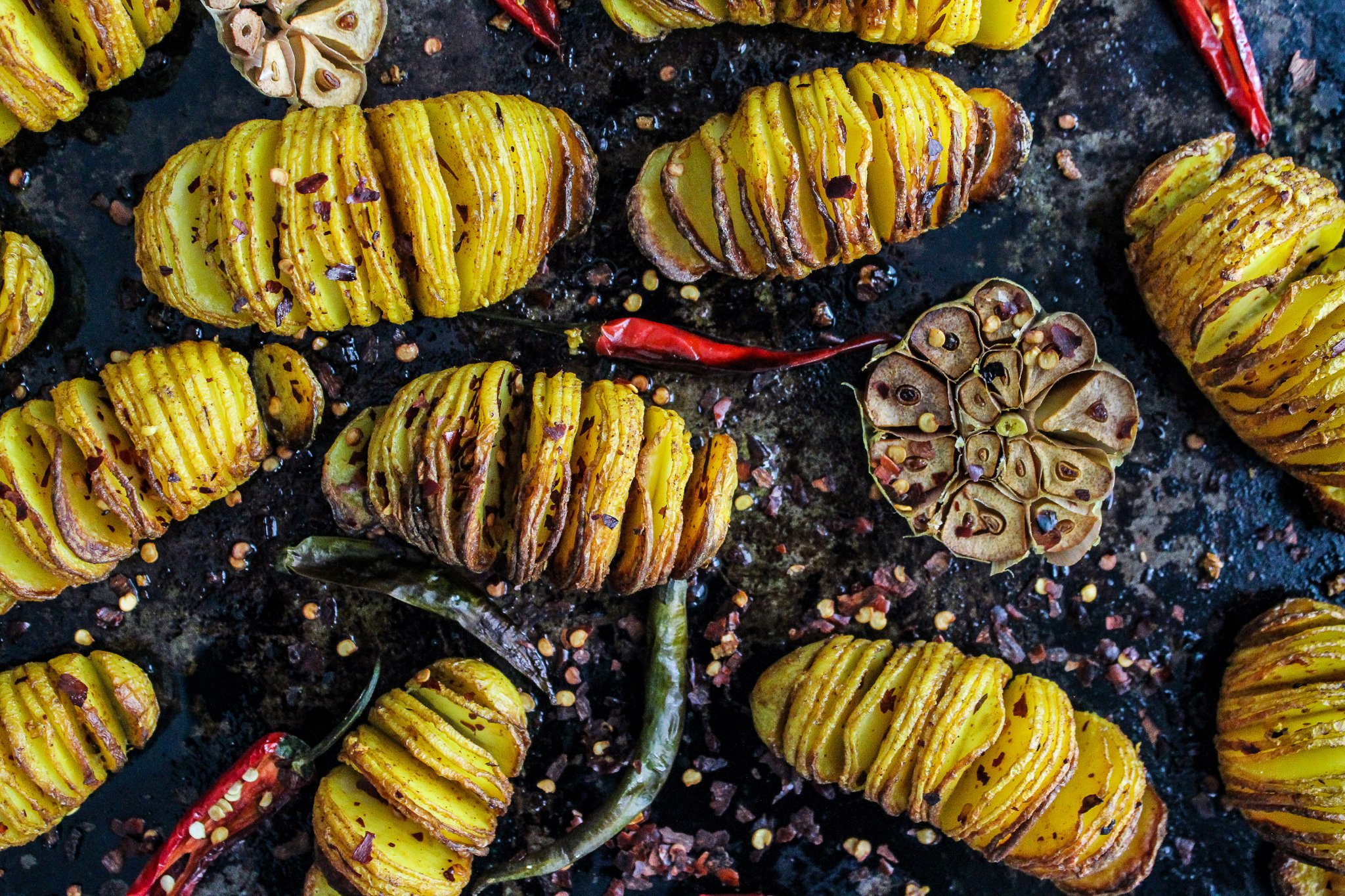 ---
Who'd have known that the humble white potato could have such wow factor?! Once you've mastered the technique for hassleback potatoes you'll no doubt have them on repeat and they'll certainly be a dinner party delight with their pimped up plate appeal. The edges of the slices crisp up beautifully whilst the middle bit remains soft and tender. The turmeric and chilli give these a little kick! They're delicious eaten either hot or cold and will make the perfect accompaniment to your Sunday roast.
---
prep time: 15 minutes cook time: 45 minutes serves: 4 – 6
---
INGREDIENTS
12-15 new potatoes (Jersey Royals or Charlotte preferably)
2 cloves garlic ~ crushed
3 Tbsp olive oil
1 Tsp ground turmeric
1 Tsp chilli flakes
½ Tsp himalayan salt
METHOD
Heat oven to 200°C/180°C fan/gas 6.
Start by slicing the potatoes. Do this by placing a potato on the hollow of the wooden spoon and place on a chopping board for extra support. Cut 3mm slices along the width of the potato. The spoon is there to ensure you don't take the knife all the way through as it will just meet the edges of the spoon.
In a large bowl, mix the oil, turmeric, garlic and a pinch of salt.
Add the sliced potatoes a few at a time to the oil mix and make sure they are lightly coated. Place them on a baking tray (lined with baking paper if you wish) or on a large ceramic oven dish. Place on the bottom shelve and cook for 25-30 minutes.
Remove from the oven and with a basting/pastry brush, coat the potatoes with more oil mix, gently pushing it down between the slices. Sprinkle the chilli flakes over the potatoes and return to the oven and cook for a further 15 minutes until they are tender and the edges have become crispy.
SERVE + GARNISH (optional)
Fresh coriander
Unsweetened Greek yogurt or coconut yogurt
NUTRITIONAL BROWNIE POINTS
Numerous studies have shown curcumin, an active constituent of turmeric to exert direct regulative effects on the human gut microbiota. It has the ability to promote growth of the beneficial bacteria such as bifidobacteria and lactobacilli whilst inhibiting growth of pathogenic bacteria. (Zam, 2018)
Curcumin has also been widely studied for it's anti inflammatory, antioxidant, antiaging and chemopreventive activities. It's bioavailability (absorption rate) is enhanced when combined with fats like coconut milk and piperine – an active constituent of black pepper.

---
---
References:
Ravalli, S. Szychlinska, M.A. Musumeci, G. (2018). 'Recently highlighted nutraceuticles for preventive management of osteoarthritis', World Journal of Orthopedics, (11), pp.255-261.
Zam, W. (2018). 'Gut Microbiota as a Prospective Therapeutic Target for Curcumin: A Review of Mutual Influence', Journal of Nutrition and Metabolism, 1367984.
---