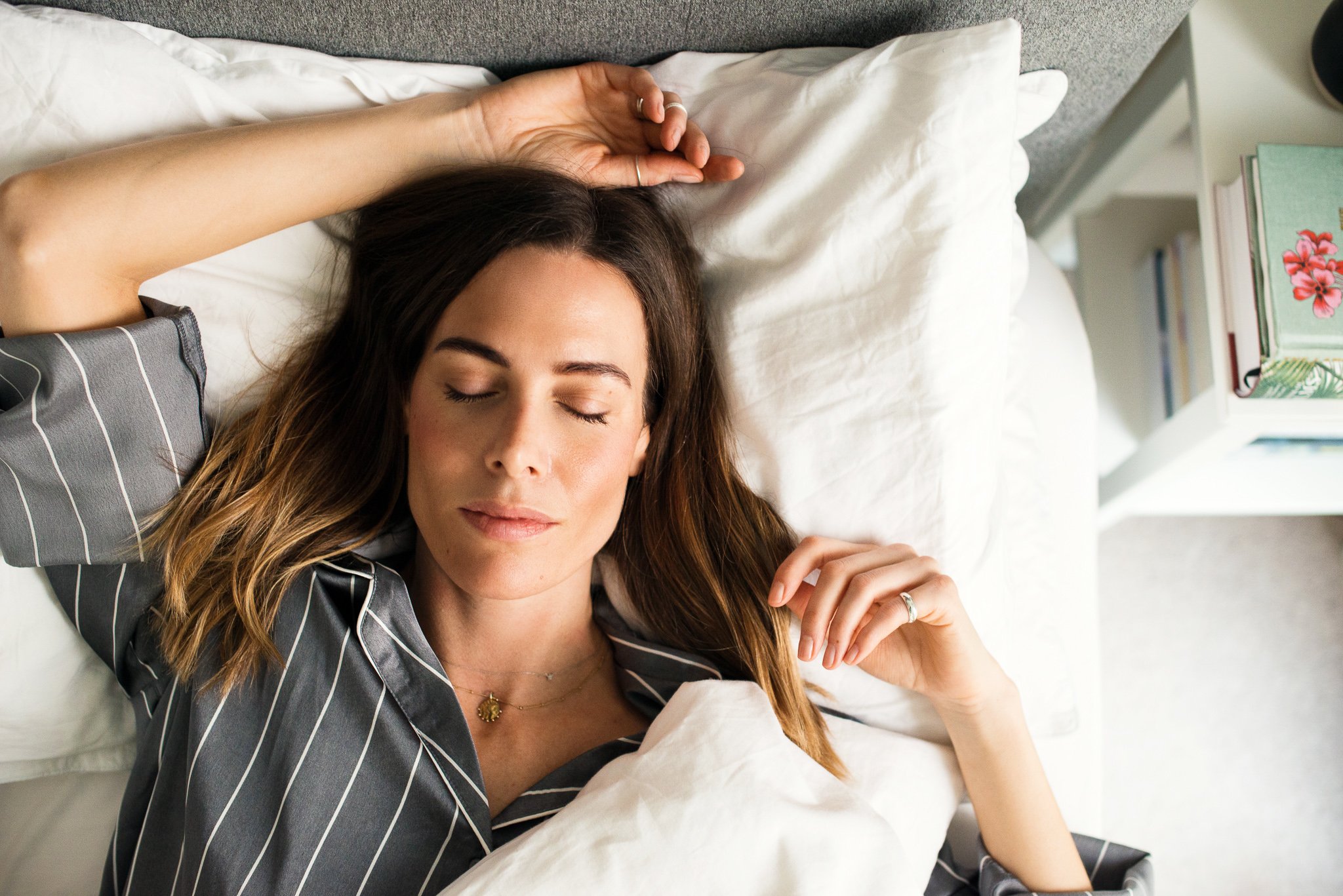 ---
Now you've all heard the term 'beauty sleep'. The concept links back to our primal days and there is absolute truth behind it. Let me explain.
Science has repeatedly demonstrated that during the stages of Non REM sleep (the deeper stages), the body repairs and re-grows tissues, builds bone and muscle and strengthens the immune system. You could say that this is where the beauty magic happens as the skin cells work to repair any damage caused by environmental stressors.
The Circadian Rhythm
This evolutionary ancient system is the natural sleep/wake rhythm governed by our internal 'master biological clock'. This clock is controlled by environmental cues (such as daylight/darkness) and regulates our sleep pattern, body temperature, blood pressure, hormone secretion and metabolic rate.
Due to the passage of time, societal and behavioural disregard for the natural sleep/wake rhythm along with poor nutritional choices, there is likely to be a decline in the optimal functioning of circadian rhythms, subsequently contributing to the ageing process.
The Circadian Influence on Skin Repair
This internal master clock believe it or not actually communicates with our skin and regulates many skin attributes like hydration, water loss, blood flow, surface PH and sebum production.
Chronic lack of sleep and the disruption of the circadium rhythm heavily correlates with signs of accelerated skin ageing and reduced skin barrier function. Studies have shown that the skin repairs itself at a higher rate during night and the renewal of our skin cells has been measured to be 30-fold higher at night than at noon!
Skin temperature is related to the rate of blood flow, with the lowest temperatures occurring in the early morning and the highest in the evening. This peak in blood flow just before our head hits the pillow means that the skin has a more permeable barrier at night, therefore enhancing topical product penetration. It might be well worth investing in a good, effective night cream! This increased blood flow to the skin also aids in delivering vital nutrients to our thirsty little skin cells.
"Circadian disruption can lead to premature ageing"
Another function of the circadian clock in relation to skin health is that it can protect the skin cells from oxidative stress, protecting them from DNA damage. Dysregulation of the circadian clock leads to an increased generation of reactive oxygen species (ROS). These are free radicals which contribute at large to accelerated ageing.
Circadian disruption impacts on many skin disorders from premature ageing, night time exacerbations in psoriasis and eczema (atopic dermatitis) and the risk for certain skin cancers.
Trans epidermal water loss (TEWL) is significantly higher during the evening therefore, due to the evening elevation of blood flow, combined with the evening water loss, it has been suggested that this is likely to be the reason eczema patients report a higher rate of itching at night time.
listed below are the movements of the skins properties as they cycle through the day and night:
DAY
Highest skin protection
Highest skin thickness
Highest sebum production
Highest pH
Lowest cell proliferation
NIGHT
Highest DNA repair
Highest cell proliferation
Highest skin temperature
Highest skin barrier permeability
Highest skin penetration
Highest skin blood flow
Highest itching
Highest moisture loss
---
Melatonin (and it's role in the sleep wake cycle in humans)
Melatonin, dubbed 'the sleep hormone' is produced by the pineal gland in the brain. The pineal synthesis is regulated by the circadian clock and synchronised to the light-dark cycle, placing melatonin synthesis at night, provided of course that it is dark! Melatonin helps us slip into a sleepy slumber but it's role extends far beyond bedtime..
Melatonin also acts as a potent antioxidant and has long been known to significantly reduce the oxidative stress burden on ageing cells or cells exposed to toxins. Studies have in fact demonstrated that dysregulated circadian control of melatonin can contribute to the unwanted effects of UV radiation on the skin.
"Melatonin protects our skin cells from UV damage"
At the skin level, melatonin exerts it's antioxidant powers, protecting our skin cells from stress and UV damage, and really does play a fundamental role in maintaining healthy skin.
Three of the major skin cell types, keratinocytes, dermal fibroblasts and melanocytes metabolise melatonin and it here it assists in building and maintaining the skins epidermal barrier.
Due to it's antioxidant capacities, it is now being considered for topical use and a recent study (application of melatonin cream over 3 months) shows great potential in melatonin creams for ageing skin.
So what can we do to up-regulate our melatonin production?
We can increase our intake of foods containing L-tryptophan, an essential amino acid and precursor to melatonin. Such foods include: Turkey, chicken, cheese, eggs, fish, nuts and seeds. It is also found in high concentrations in Montmorency cherry juice and studies have backed up it's efficacy in managing disturbed sleep.
Limit the time you spend on your laptop or phone in the evening and try not to use these devices at least 1 hour before you go to bed. The blue light they emit inhibits melatonin production, setting you up for a sub optimal nights sleep.
Dim the lights and light a candle as the evening descends upon you. This 'tricks' the brain into thinking it is night time and will work to synthesise more melatonin, allowing for better improved sleep quality.
Invest in a light alarm clock! These work to simulate the rise and fall of the sun and wake you gradually with light that mimics a sunrise. Melatonin is our friend at night however we want to inhibit it's production in the morning ensuring we're able to get up and out of bed in a non groggy state. These lights do just that. I have recently purchased the Philips Wake-Up Light alarm and it's proving to be a game changer! I wake to the gentle 'sunrise' before the alarm sounds and it's made getting up that little bit easier, especially over these gloomy winter mornings.
When should we be sleeping?
According to sleep expert Shawn Stevenson, the best times to be getting our shut eye are between 10pm and 6am and this is due to our bodies natural circadian rhythm mimicking the suns rise and fall.
'Beauty Sleep' is really a thing right?
There is now a great body of scientific evidence suggesting that the skin is clearly characterised by rhythmicity in virtually all of it's functions therefore we can now fully respect the concept of 'beauty sleep'. If we wish to slow down the ageing process, we might need to reevaluate our evening routines. Sleep is one of the pillars of health after all. Goodnight!

---
---
References:
Brown, SA. (2014). 'Circadian clock mediated control of stem cell division and differentiation: beyond night and day', Development For advances in developmental biology and stem cells, (141), pp. 3105-3111.
Gaspar do Amaral, F. Cipolla-Neto, J. (2018). 'A brief review about melatonin, a pineal hormone', Archives of Endocrinology and Metabolism, (4).
Matsui, MS. Pelle, E. Pernodet, N. (2016).'Biological Rhythms in the Skin', International Journal of Molecular Sciences, (6), pp. 801.
Milani, M. Sparavigna, A. (2018). 'Antiaging efficacy of melatonin-based day and night creams: a randomized, split face, assessor-blinded proof-of-concept trial', Clinical, Cosmetic and Investigational Dermatology, (11), pp. 51-57.
Plikus, MV. Van Spyk, EN. Anderson, B. (2015). 'The circadian clock in skin: implications for adult stem cells, tissue regeneration, cancer, aging and immunity', Journal of biological rhythms, (3), pp. 163-182.
Slominski, AT. Kleszczynski, K. Fischer, TW. (2014). 'Local Melatoninergic System as the Protector of Skin Integrity', International Journal of Molecular Sciences, (10), pp. 17705-17732.
---