---
no.1 May Lindstrom The Clean Dirt Cleansing Clay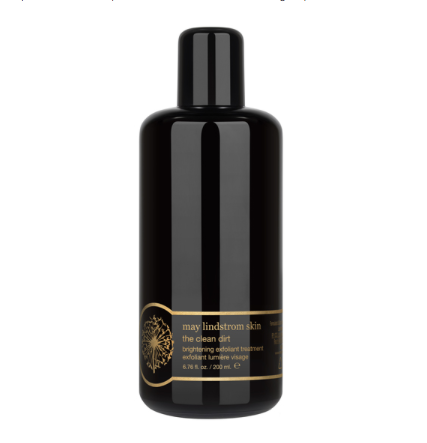 After reading many great reviews on this product, I decided it was time to try it for myself, if not only for the beautiful black recyclable glass bottle it comes in!
This is a powder clay based cleanser containing a mix of spices such as turmeric, healing salts to lift impurities and hit of vitamin C, which is activated when water is added. These active ingredients all work together to exfoliate and resurface the skin and once applied to the skin, you can feel a bubbling sensation followed by a slight tingle.
For me, this feels very satisfying as it indicates that the product is 'working' to shift those unwelcome dead skin cells that are still hanging on for dear life. See ya! After using this 3 times a week for a couple of weeks, I noticed that the texture of my skin had really improved and my skin seemed brighter and less congested. You'll notice baby soft skin just after one use and it continues to improve with extended use. If you have sensitive skin, go easy on the frequency of use.
How to use:
Now, usage is a little tricky I have to say. I pour roughly a teaspoon worth (I just eyeball it) of the powder into the palm of my hand and then I add water bit by bit. It helps if you have a little vessel for the water at hand. I use a small 40ml medicine measuring cup! Then mix together with your finger until it forms a mousse like paste.
It will then start to foam and bubble (how very Hogwarts). Apply to your face and massage in a circular motion all over the face, avoiding the eye area. Pay particular attention to congested areas like around the nose. Add a little warm water to the face and continue massaging, then rinse it off with warm water. I like to use a muslin cloth here to ensure I remove every last trace. Be warned, the product does contain turmeric and traces of it can be left behind and then transfer onto your pillow! Rinse thoroughly! The application takes a bit of practice and it can be a little messy but the results are worth it! Just to add here that you can also use this cleanser as a mask and leave on the face for 5-10 minutes before washing off.
This product is 100%, vegan, gluten free and free from parabens, sulphates and artificial dyes.
Price:£62.00 (yes, I know it's pricy but it lasts a long long time!)
---
no.2 Caudalie Make Up Removing Cleansing Oil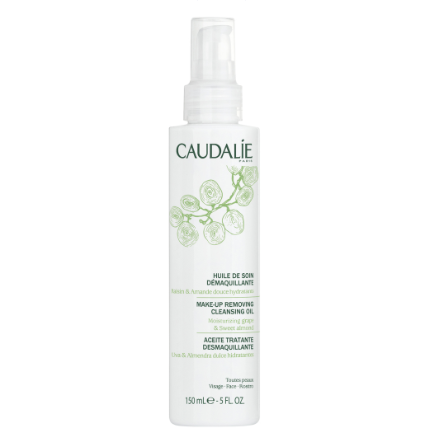 I've tried a fair few oil-based cleansers and love to use them if I've been wearing make up as I feel they really do work to remove any grime build up from the day. They also leave your skin feeling nourished and soft once it's rinsed off.
This one by the French brand Caudalie is my favourite to date and let me explain why. As oil cleansers work well in removing mascara its important to find one that does not cause any irritation to the eyes. This one does not, others have done a little therefore, it is suitable for sensitive eyes, like mine. Waterproof mascara comes straight off with this one too!
Another attribute that ranks this cleanser quite highly is the consistency. Not too thick that you're unable to work it around your skin but also not too thin and watery. Once it mixes with water it transforms into a lovely milky emulsion and glides easily across the skin. It leaves your skin feeling fresh, plump and silky soft and doesn't leave a greasy film like some oil cleansers do.
The formulation is a100% natural blend of sunflower, sweet almond, grape and caster oils. It's vegan and free from parabens, sulpahtes and petrochemicals.
How to use:
Use in the evening to remove make up. Soak a muslin cloth in hot water, squeeze excess and place over face to warm and open the pores. Warm a few pumps of oil in your palms and massage in circular motions to your entire face, including your eyes (if wearing eye make up). Add a little warm water and continue massaging. The oil will turn in to a milky emulsion at this stage. Rinse off with more water and then remove last traces with the damp muslin cloth. Pat face dry and apply your moisturiser/serums.
Price:£18.00
---
no.3 Seed To Skin The Clarity Cleanse
I recently discovered this brand whilst mooching around Liberty. The elegant yet earthy packaging lured me in and before you know it, I'm having a 30 minute conversation with the brands account manager and testing every product within the range! After much deliberation, I finally settled on The Clarity Cleanse and have been road testing it for a few weeks now. I've used it every other day, in the evening and I can definitely notice an improvement in the texture of my skin and my pores don't seem to be as congested. As a London dweller, I do tend to lean more towards cleansers that offer deep cleaning to ensure removal of city dirt build up. I'm also drawn in by anything that offers 'resurfacing' or 'skin renewal' properties.
This cleanser is an enzymatic wash that does indeed provide some resurfacing action! It's formulated with active enzymes and natural acids such as Mandelic, Lactic and Salicylic which all work together to remove dead skin cells and impurities. It also contains ginger root, helping to calm inflammation and Niacinamide which is great ingredient for acne prone skin due to its antiinflammotory, anti microbial and pigmentation reducing properties.
How to use:
I use 3 – 4 pumps and apply to a dry face, massaging it in. I then leave it on for 5 minutes or so whilst I brush my teeth. You can feel a slight tingling (yes! It's working!). I then rinse off with warm water, pat my face dry and apply my serums or moisturiser. As the active enzymes and acids in this product help to remove the dead skin cells it will allow for enhanced penetration of ingredients in your moisturiser. Win Win!

---