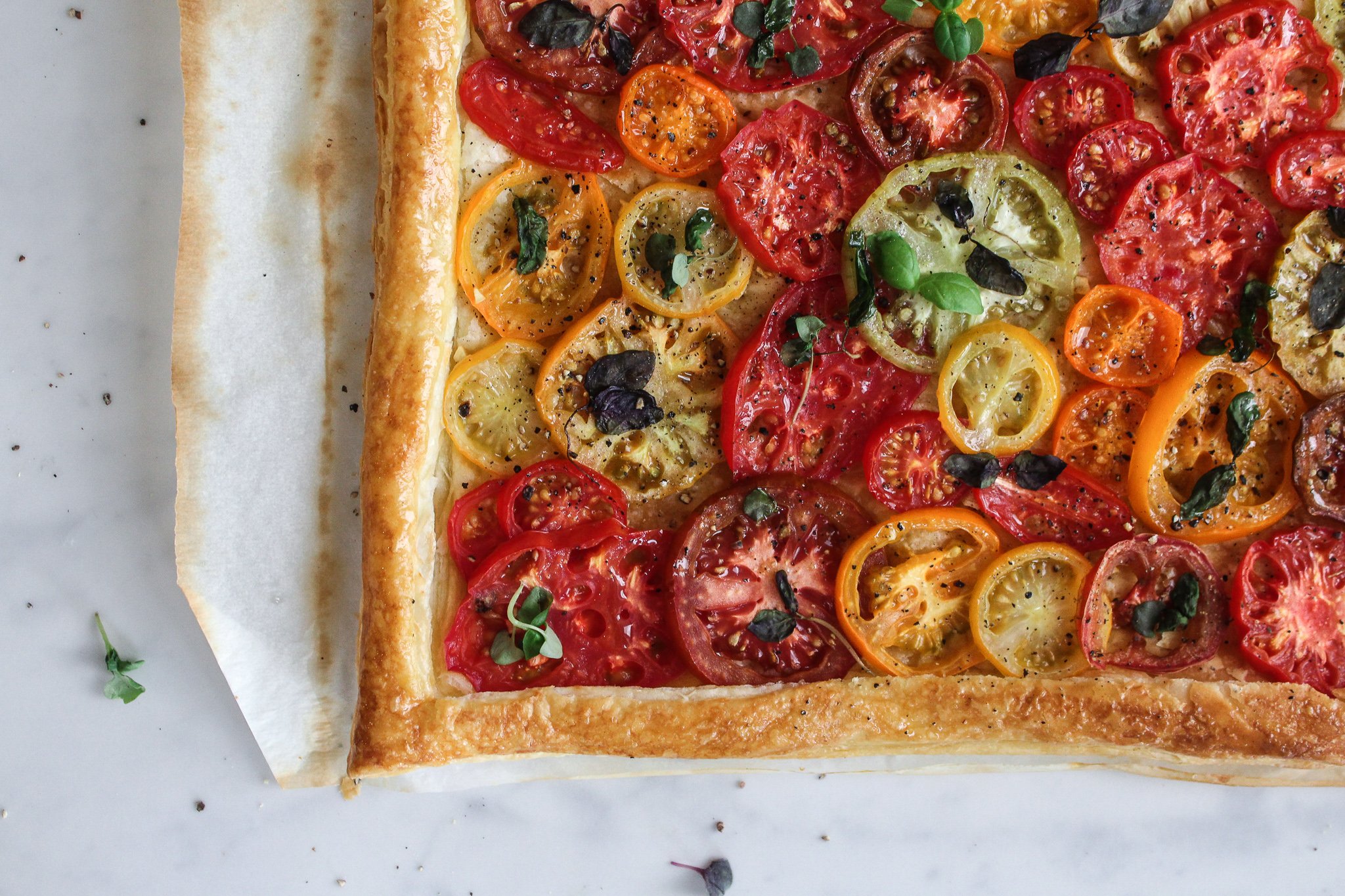 ---
Heirloom tomatoes provide such beauty to a dish and work wonderfully in this quick and easy tart. It's a perfect meal for anytime of the day and although it's best served warm, it's also delicious eaten cold. You can't go wrong with the tomato/basil combo and it always makes for a great summer flavour. I'm thinking this would be a wonderful picnic dish. However you decide to eat this, i'm certain it won't disappoint. Enjoy!
---
prep time: 10 mins cook time: 30 mins serves: 2-3
---
INGREDIENTS
350g mixed heirloom tomatoes ~ finely sliced
1 sheet pre rolled puff pastry (approx 10"x15")
1 clove garlic, chopped
1 Tbsp olive oil
2 Tbsp micro basil or several leaves of regular basil
pinch of Himalayan salt and black pepper to season
METHOD
Preheat the oven to 200°C/fan180°C/gas 6
Slice the tomatoes (4-5mm thick) and set to one side
Remove the pastry from the fridge and let it sit at room temperature for 10 minutes. Unroll it on to a sheet of baking paper and with a knife, score a 2cm border around the edge. Prick the centre of the pastry all over with a fork. Place in the oven for 10 minutes until the edges start to rise and turn a light golden brown.
Remove from the oven. Evenly distribute the chopped garlic over the pastry (not the edges!) Place the tomato slices in vertical rows, overlapping one another slightly. Drizzle with olive oil, season with salt and pepper and return to the oven to cook for another 10 minutes. Remove from the oven again and scatter the basil over the entire tart. Return to the oven and cook for a further 5 minutes.
Remove from the oven and add another drizzle of olive oil and a few more basil leaves. Serve warm!
SERVE + GARNISH (optional)
With a simple green salad
With poached egg on top
With creamy burrata
NUTRITIONAL BROWNIE POINTS
Tomatoes are a rich source of lycopene which is known for it's skin protective properties. Evidence shows that lycopene can protect the skin against sunburn by increasing the skins defence against UV light mediated damage. Studies have also demonstrated lycopene to be protective against many other chronic diseases including cancer and cardiovascular disease.

---
---
References:
Rinnerthaler, M. Bischof, J. Richter, K. (2015). 'Oxidative Stress in Aging Human Skin', Biomolecules, (2), pp.545-589.
Schagen, S.K. Zampeli, V.A. Zouboulis, C.C. (2012). 'Discovering the link between nutrition and skin aging', Dermato-endocrinology, (3), pp.298-307.
Souyoul, S.A. Saussy, K.P. Lupo, M.P. (2018). 'Nutraceuticals: A Review', Dermatology and Therapy, (1), pp.5-18.
Story, E.N. Kopec, R.E. Harris, K. (2010). 'An Update on the Health Effects of Tomato Lycopene', Annual review of food science and technology, (10), pp102308-124120.
---