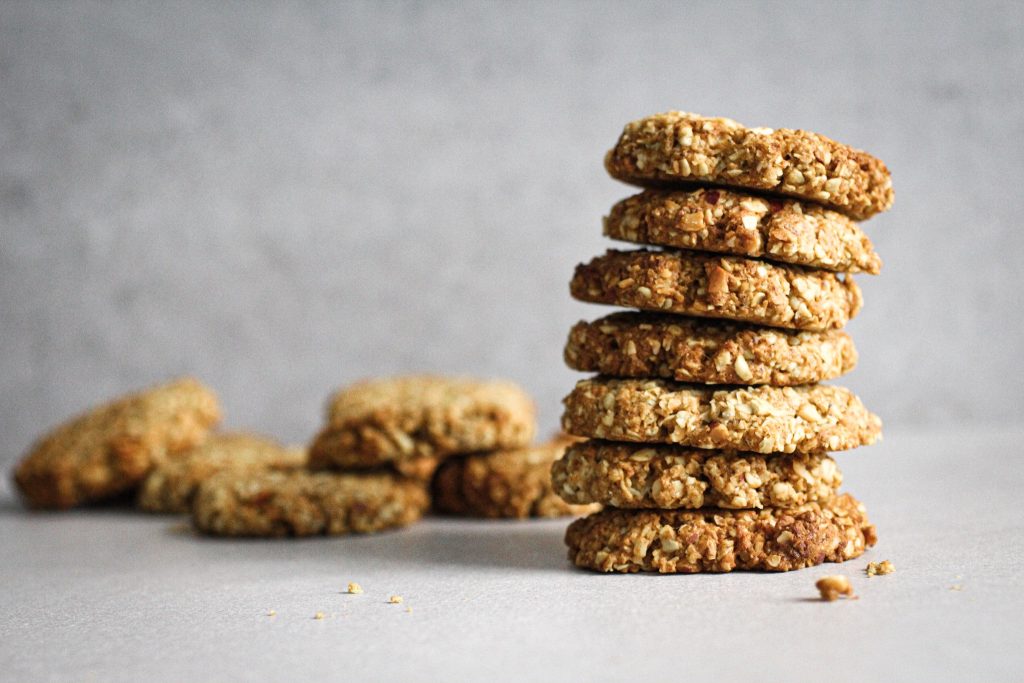 ---
prep time: 25 minutes    cook time: 10-15 minutes    yield: roughly 30 cookies
---
INGREDIENTS
dry ingredients
90g / 1 cup rolled oats
45g / ½ cup oat flour
50g / ½ cup ground almond
50g / ¼ cup coconut palm sugar
100g / 1 cup desiccated coconut
½ tsp baking powder
½ tsp bicarbonate of soda
1 tsp ground turmeric
½ tsp ground cardamon
¼ tsp salt
wet ingredients
250 / 1 cup unsalted peanut butter (you can use crunchy or smooth. I used crunchy!)
50g / ¼ cup melted coconut oil
85g / ¼ cup maple syrup
2 flax or eggs (ground flax or ground chia and water – see method)
1 tsp vanilla extract
METHOD
Preheat oven to 180°/160° fan/gas 4. Line 2 baking trays with parchment paper.
Start by making the flax or chia eggs. Using a whisk, mix together 2 tablespoons of ground flax/chia with 6 tablespoons of water. Set aside for at least 10 minutes.
In a large bowl, mix together all of the dry ingredients making sure they're all combined.
In another bowl, whisk together all of the wet ingredients and then add this to the dry mix. Combine together with a spatula until it's well incorporated.
Spoon roughly 2 tablespoons of the mixture and between your palms roll into a rough ball. Place on the lined baking tray and press down gently with a fork until it forms a cookie shape. Repeat this process until you've used up all the mixture. It should make around 30 cookies!
Place in the oven for around 10-12 minutes until they start to turn a light golden brown around the edges. Remove from the oven and place on a cooling rack. They're delicious warm or cold. These cookies will keep for up to a week in an airtight container. Enjoy!

---
---