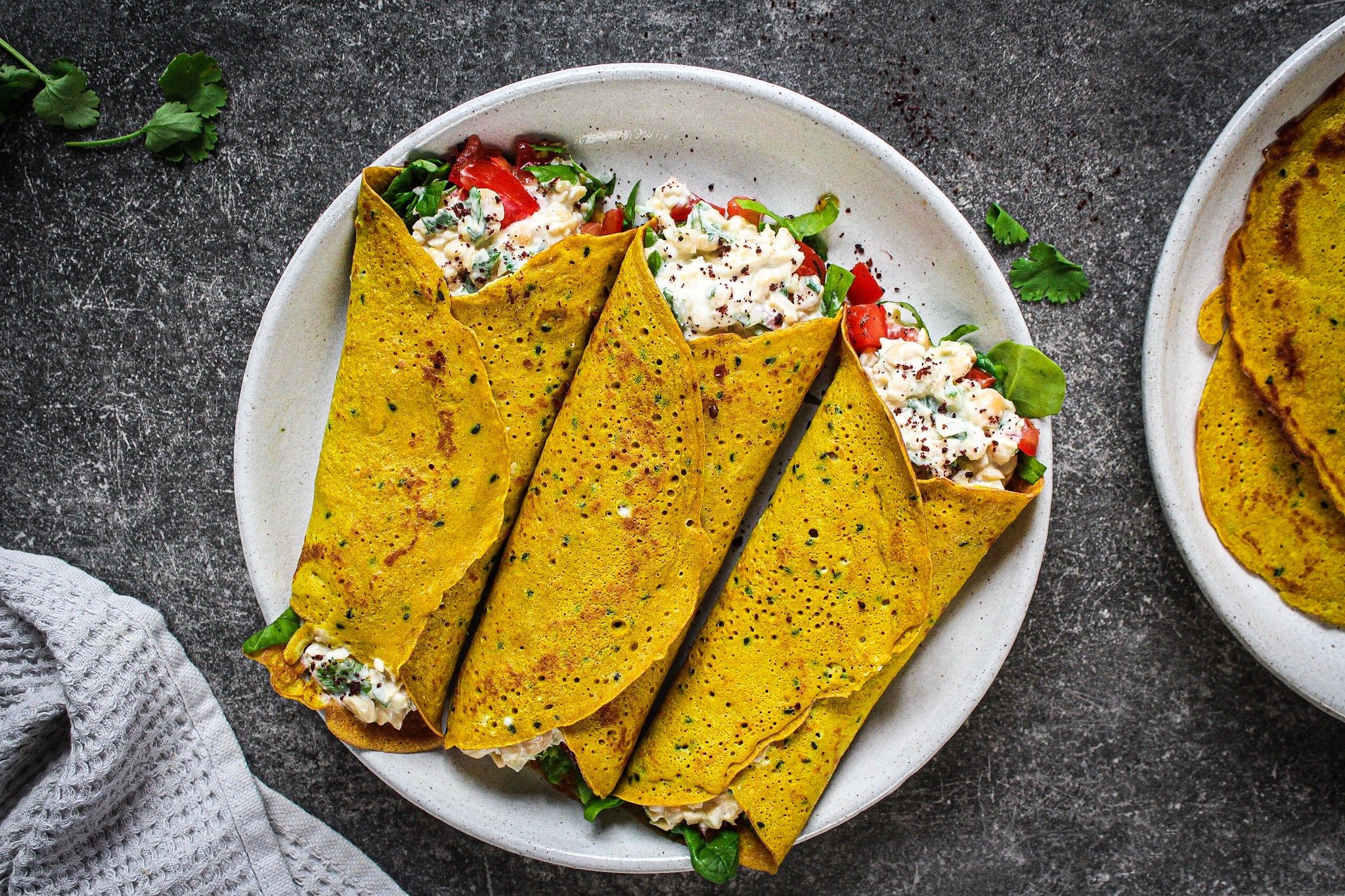 ---
A quick and easy meal that also makes a great take to work lunch! The pancake wraps are slightly spiced with curry flavours, which marry well with the cooling creamy chickpea yogurt filling. You can use any filling you prefer – load up with roasted veg, egg or anything you have to hand. Hope you enjoy!
---
prep time: 20 mins   cook time: 15 mins   serves: makes 6 pancakes
---
INGREDIENTS
For the pancake mix:
75g/½ cup of brown rice flour
2 eggs
125ml/½ cup of coconut milk (or any other pant based milk)
½ tsp ground turmeric
½ tsp ground cumin
½ tsp nigella (black onion) seeds
½ tsp Himalayan salt
Pinch of black pepper
1 clove of garlic
Tbsp avocado oil ~ for frying
For the filling:
140g/½ cup Greek yogurt
400g/2 cups cooked chickpeas ~ drained and rinsed
Small bunch of fresh coriander ~ roughly chopped
Handful of baby spinach ~ finely chopped
4 medium tomatoes ~ finely diced
½ tsp Dijon mustard
¼ tsp Himalayan salt
¼ tsp black pepper
METHOD
Start by making the filling. In a bowl, combine the yogurt, coriander, mustard, salt and pepper.
Add the chickpeas to a food processor and pulse a few times to break down the chickpeas and create some texture. Do not over do it here – we don't want hummus! Add the chickpeas to the yogurt mixture and stir in well.
To make the pancake mix add all the ingredients (except the nigella seeds) to a blender and blend until it forms a smooth consistency. Once blended, add the nigella seeds.
Heat a small amount of avocado oil in a skillet pan on medium heat. Take a ladle of the pancake mix and pour into the middle of the pan in a circular motion until you get a smooth even pancake. Use the handle of the pan to control this motion. Cook for a minute or two on each side and set aside on a plate – cover with a bowl to retain the heat. Repeat until you use up all the pancake mix.
Then take a pancake and add the filling down the middle. Start layering up with the chopped spinach, tomatoes and then the chickpea mix. Fold the sides of the pancake into the middle to form your wrap. Enjoy!
NUTRITIONAL BROWNIE POINTS
Chickpeas are high in dietary fiber and plant protein with 100g of cooked chickpeas providing you with 7.5g and 9g respectively. The recommended daily intake of fiber is 30g.
Research suggests that chickpeas play a beneficial role in weight management and glucose and insulin regulation, as well as helping to prevent cardiovascular disease.
They are also a great source of manganese, folate, copper and iron.
Manganese is needed to make manganese superoxide dismutase (MnSOD); one of the most important antioxidants in the body. Each of our cells contain a mini organ called mitochondria and it's here that 90% of our bodies energy is made. Mitochondria, is often referred to as the 'powerhouse' of the cell. A decrease in MnSOD can have a negative impact on mitochondrial function and the overall health of our cells.

---
---
References
Holley, AK. Bakthavatchalu, V. St Clair, DK. (2011). 'Manganese Superoxide Dismutase: Guardian of the Powerhouse' Molecular Sciences, 12 (10), pp. 7114-7162. [Online]. Available at: https://www.ncbi.nlm.nih.gov/pmc/articles/PMC3211030/
Wallace, TC. Murray, R. Zelman, KM. (2016). 'The Nutritional Value and Health Benefits of Chickpeas and Hummus', Nutrients, 8 (12), pp.766. [Online]. Available at: https://www.ncbi.nlm.nih.gov/pmc/articles/PMC5188421/.
---