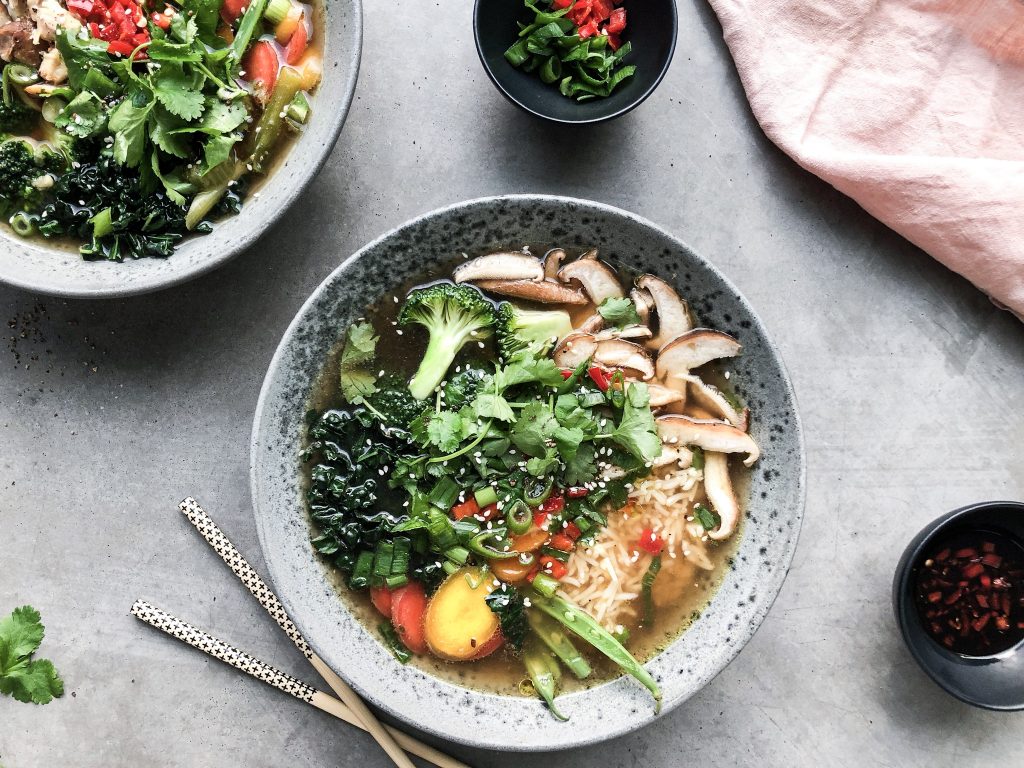 ---
This dish really is a huge hug in a bowl but it's more than that, oh yes….it's loaded with nutrients to boost your immunity, fight inflammation and keep those pesky germs at bay. This is a time of year we can feel a little under the weather and this bowl of goodness is an absolute saviour! I teamed up with the lovely Sommer over at House Curious where she introduced me to her go-to recipe that she cooks up on a regular basis for her hubby and girls. It's an all round pleaser! Although made with chicken, I have given you a vege option using delicious marinated shitake mushrooms and crispy tofu. Time to get your comfy's on, snuggle up and slurp away. Enjoy!
---
prep time: 20 minutes    cook time: 60 minutes    serves: 4
---
INGREDIENTS
for the broth
1 Carrot ~ sliced
8 Spring onion ~ roughly chopped (save a couple for the garnish too!)
1 stick of celery ~ sliced
1 whole bulb of garlic (approx 10 cloves) ~ finely chopped
8cm fresh ginger ~ minced
3 chicken stock cubes (use veg stock cubes for the veg version)
4 organic chicken thighs (skin on)
1 Tbsp fish sauce
3 Tbsp soy sauce
1 Tbsp toasted sesame oil
2.5 Litres
salt & pepper to season
Note: for the vegetarian version swap the chicken for 200g of sliced shitake mushrooms
all the veg
½ head of broccoli ~ cut into small florets
2 carrots ~ sliced
125g shitake mushrooms ~ cut into slices
80g green beans ~ cut in half lengthways
100g cavolo nero ~ stalk removed and finely shredded
250g baby pak choi ~ ends removed and leaves left whole
the recipe also calls for 250g white basmati rice
for the marinade
3 Tbsp kecap manis (sweet soy sauce)
2 Tbsp soy sauce
1 Tbsp olive oil
2 garlic cloves ~ finely chopped
for the garnish
handful of fresh coriander ~ roughly chopped
1 red chilli ~ finely chopped (you can use birds eye or regular jalepeño depending on your heat preference!)
1 Tsp sesame seeds
2 spring onion ~ finely sliced
METHOD
Preheat the oven to 200°/180°Fan/gas 6
Start by making the marinade. Simply mix all the ingredients together in a bowl and rub into the chicken thighs ensuring they are evenly coated. For the vege option, follow this step using the mushrooms and add a drizzle of sesame oil. Note: you can do this step the night before and store in the fridge until ready to cook.
Place the marinated chicken thighs or mushrooms onto a baking tray or oven proof dish and put into the oven for around 20 – 30 minutes until the they start to brown and caramelise.
Whilst the chicken/mushrooms are in the oven you can prepare all the veg and garnish.
To a large saucepan, add the cooked chicken thighs/mushrooms along with the rest of the broth ingredients: ginger, garlic, celery, carrot, spring onion and stock cubes. Cover with water and place on the hob over medium – high heat. Add the fish sauce, soy sauce and toasted sesame oil, bring to a boil and let it simmer for about 20 – 30 minutes, until the chicken starts to come away from the bone.
In separate small saucepan, cook the rice according to packet instructions. Set aside.
Remove the chicken from the pan, let it cool slightly and pull the meat from the bone. It should fall off easily. Add it back to the broth. This would be a good time to taste the broth and add more seasoning if need be.
Add the chopped veg to the broth. Start with the broccoli, carrots and green beans. Cook for 2-3 minutes, then add the mushrooms and the cavolo nero. Cook for a further 4-5 minutes. If you prefer your veg less al dente you can cook them for a bit longer. You want to leave the pak choi until the last minute as it cooks very quickly. When you're ready to serve up you can submerge the pak choi into the broth.
To serve up, add some rice to a good sized bowl and ladle over the broth, veg and chicken. Add a drizzle of toasted sesame oil and finish by adding the raw garnish of coriander, spring onion, chilli and sesame seeds. Et voila! Sit back and enjoy!
Note: instead of white rice you can of course substitute for brown. Another option is to use rice noodles.
For the vegetarian version, you can pan fry some cubed tofu and add it at the end along with the garnish. The vegetables can be pretty interchangeable so see what you have in your fridge already and have a play around. It's a versatile dish!
You can watch the full video making this delicious recipe here.

---
---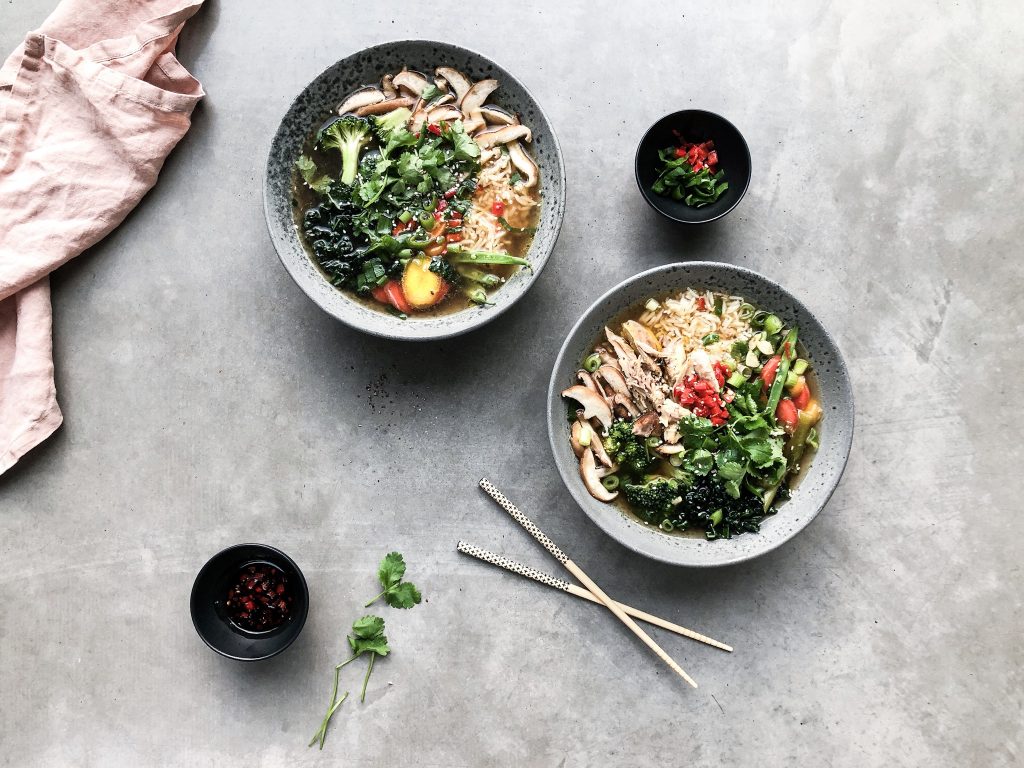 ---