---
Frittatas are so versatile and are a great way to use up any left over bits in the fridge. They're a wonderful source of protein and can be eaten for breakfast, lunch or dinner. This one is packed with greens and the charred onions give it an extra special flavour. Hope you enjoy!
---
INGREDIENTS
10 large eggs
6 spring onion
8 asparagus spears (medium thickness, ends removed)
1 medium white onion ~ halved and sliced
80g (1/2 cup) chopped kale/stalks removed (can be curly or cavolo nero)
60g (1.5 cups) baby spinach
2 Tbsp olive oil
1 tsp himalayan salt
Black pepper for seasoning
METHOD
Start by heating up the griddle pan over medium heat
Cut the spring onions in half lengthways, green part too. Coat them lightly in olive oil and gently place them across the griddle pan. Let them cook for 4-5 minutes, until the griddle lines appear. Using tongs, gently turn them over and cook for a further 4-5 minutes. Remove from pan with tongs and set aside on a plate.
Heat some olive oil over medium heat in a separate large pan. Add the asparagus tips and cook for around 5 minutes until they start to soften. You want to keep them slightly al dente! Remove from pan and set aside (you'll be adding them back in later).
Meanwhile, crack the eggs in a large bowl and whisk. Add a pinch of salt per egg (general rule of thumb!). Mix and set aside.
Add a little more oil to the same pan and add the onion slices. Sautee for about 5 minutes or until they just start to turn translucent. Turn the heat down a little, add the kale and season with a good pinch of salf and black pepper. Cook for a further 5/6 minutes, until kale starts to soften (Curly kale will take slightly longer than cavolo nero. Finally, add the spinach to the same pan and cook for a further 3-4 minutes, until it starts to wilt.
Heat an oven/grill-safe pan (I like to use a cast iron pan) on low heat and lightly coat with oil, sides included. Transfer the veg mix to the pan and spread it out evenly. Add the asparagus tips.
Turn the grill onto high heat
Pour over the beaten eggs and occasionally, gently fold the mixture, moving the bottom and sides away from the pan to ensure it cooks evenly. When the eggs are semi set, start to arrange the charred spring onions on top, pushing down so they are very slightly submerged in the egg mix.
Place the frittata under the grill until the egg firms up.
SERVE + GARNISH (optional)
With a green salad
With harissa
With roasted tomatoes

---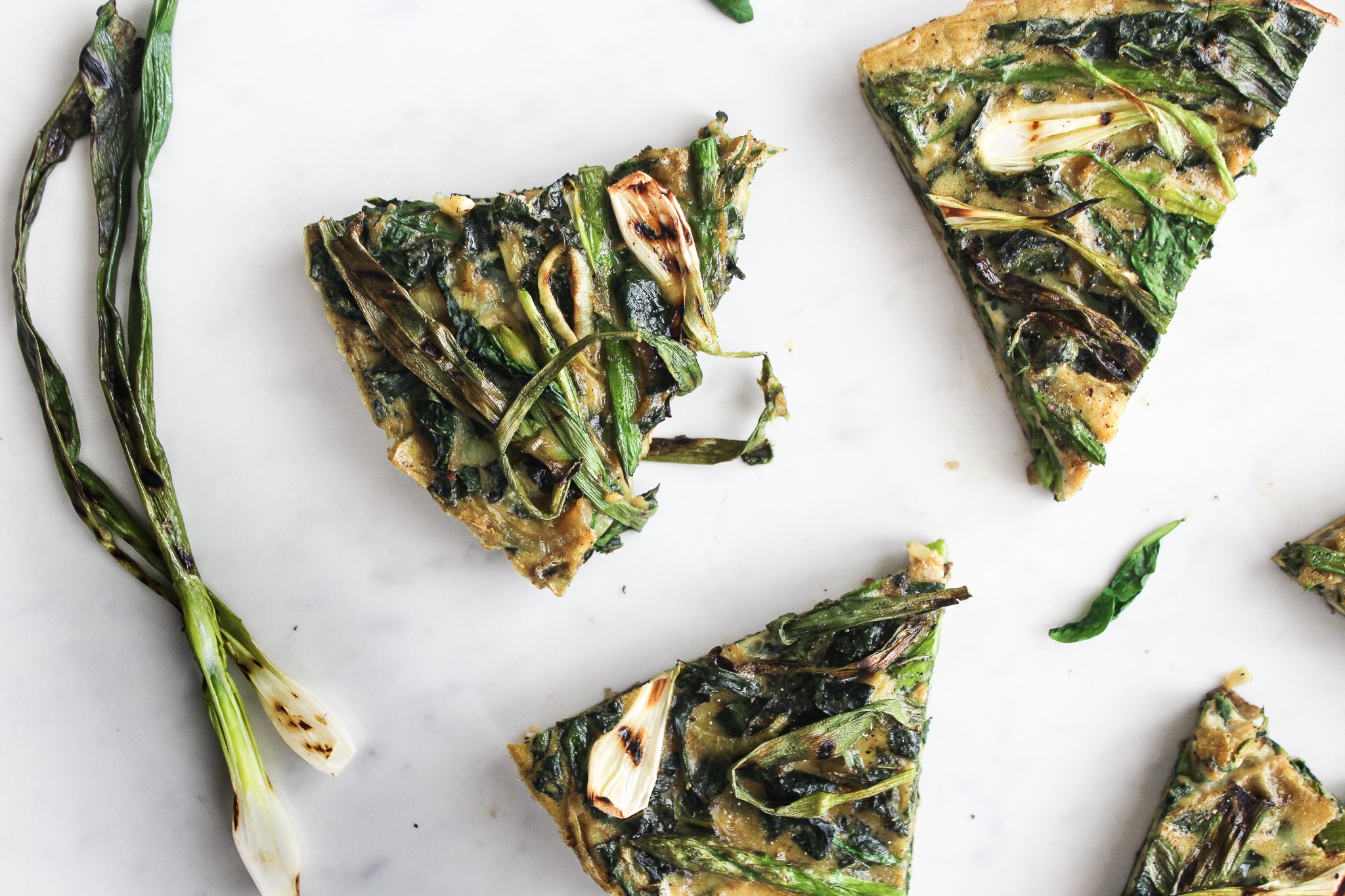 ---