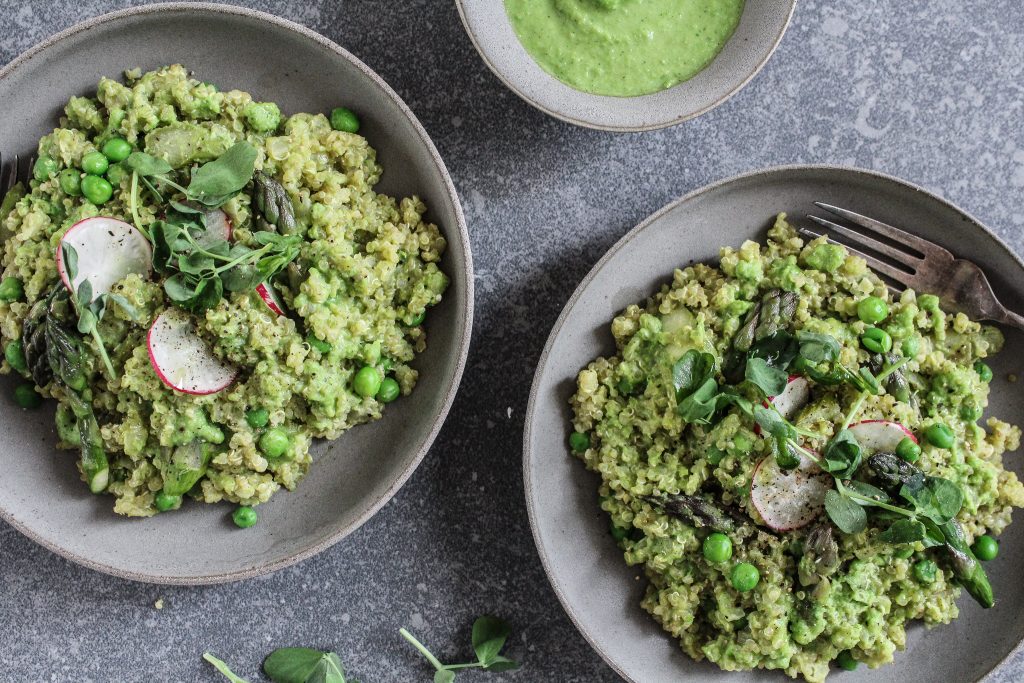 ---
To me, the taste of summer has to be asparagus. When I was a teenager I spent the summer months working on an asparagus farm, eagerly plucking the little green spears fresh from the earth. Those long hazy days filled me with so much delight….  and asparagus! 
A little twist on a traditional rice based risotto. Here I've used quinoa as a substitute, providing you with a protein packed version. Pea and asparagus marry so well together and the fresh peppery radish finishes it off beautifully. Risotto can be quite a heavy dish however this one is light and fresh yet exploding with summer flavour. Hope you enjoy!
---
prep time: 15 minutes cook time: 25 minutes serves: 4
---
INGREDIENTS
250g/1.5 cups uncooked quinoa ~ soaked over night, drained & rinsed
3 cups vegetable stock
8 spears asparagus ~ ends removed and chopped
1 large white onion ~ finely diced
4 cloves of garlic ~ finely chopped
½ Tsp Himalayan salt
black pepper
1 Tbsp avocado oil (can also use olive oil)
4 radishes ~ finely sliced (use a mandolin if you have one)
Small bunch of fresh pea shoots
For the pea puree:
225g/1.5 cups frozen garden peas
4 Tbsp coconut milk (can use other plant milk or water)
1 Tbsp avocado oil (can also use olive oil)
5 sprigs fresh mint (use leaves only)
¼ Tsp Himalayan salt
Pinch of black pepper
METHOD
Start by making the pea puree. To defrost the peas, boil some water and cover the peas for a few minutes then drain them. Add all the ingredients to a blender and blend until it reaches a creamy consistency. Set to one side.
In a medium pan, heat a tablespoon of avocado oil over medium heat. Add the onion and cook for a 4-5 minutes until they become translucent. Add the garlic and cook for 2-3 minutes, stirring frequently.
Add the quinoa to the pan, along with the salt, pepper and stock. Bring to the boil and then reduce the heat. Let it simmer for about 8-10 minutes, add the asparagus and stir. Cook for a further 5 minutes until all the liquid has absorbed.
Stir in the pea puree, mix together well and heat it through. Serve into dishes, add the radish slices and pea shoots on top and a drizzle of avocado or olive oil.
---
NUTRITIONAL BROWNIE POINTS
Asparagus, onion and garlic are all prebiotic foods and prebiotics feed the beneficial strains of bacteria in our gut and stimulate their growth and activity providing many benefits to human health such as:
Enhance the bioavailability and uptake of minerals like calcium, magnesium and iron.
Promotes satiety and weight loss and prevent obesity.
Reduce inflammation and symptoms associated with inflammatory bowel disease (IBD)
Improve gut barrier function and promote a healthy immune system
Reduces population of pathogenic bacteria.
Quinoa is a wonderful source of plant protein as it contains all 20 amino acids, 9 of which must be obtained through diet, as our bodies are unable to synthesise them. This makes quinoa a complete protein unlike some other sources of plant based protein. Quinoa is also rich in mineral nutrients such as calcium, magnesium, iron, potassium and zinc.
Magnesium is an essential mineral for energy production within the body and low levels have been linked to fatigue. It is also essential for the regulation of muscular contraction, blood pressure and nerve transmission.
Zinc plays a role in a number of skin disorders, acne being one of them. It is able to directly inhibit p.acnes proliferation – the bacteria responsible for acne formation.

---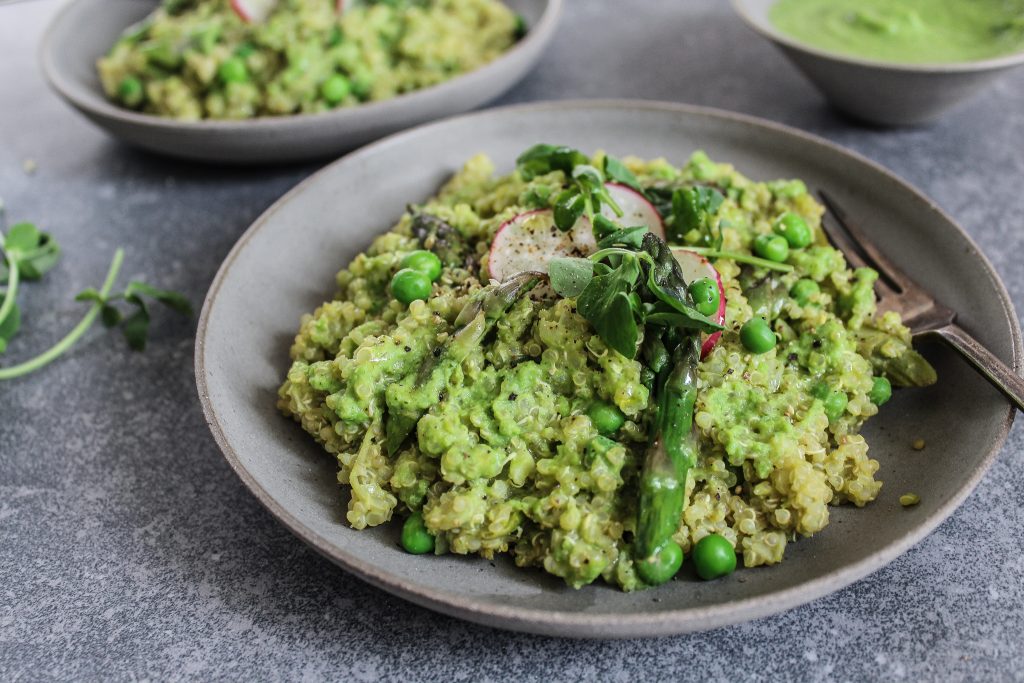 ---
References
Cervantes, J. Eber, AE. Perper, M. et al. (2017). 'The role of zinc in the treatment of acne: A review of the literature', Dermatologic Therapy. 31 (1). [Online]. Available at: https://onlinelibrary.wiley.com/doi/full/10.1111/dth.12576
Grober, U. Schmidt, J. Kisters, K. (2015). 'Magnesium in Prevention and Therapy', Nutrients, 7 (9), pp. 8199-8226. [Online]. Available at: https://www.ncbi.nlm.nih.gov/pmc/articles/PMC4586582/
Mattila, P. Makinen, S. Pihlanto, A. (2018). 'Nutritional Value of Commercial Protein-Rich Plant Products', Plant Foods for Human Nutrition, 72 (2), pp. 108-115. [Online]. Available at: https://www.ncbi.nlm.nih.gov/pmc/articles/PMC5956054/#!po=42.5000
Slavin, J. (2013). 'Fiber and Prebiotics: Mechanisms and Health Benefits', Nutrients, (4), pp.1417-1435. Available at: https://www.ncbi.nlm.nih.gov/pmc/articles/PMC3705355/.
---