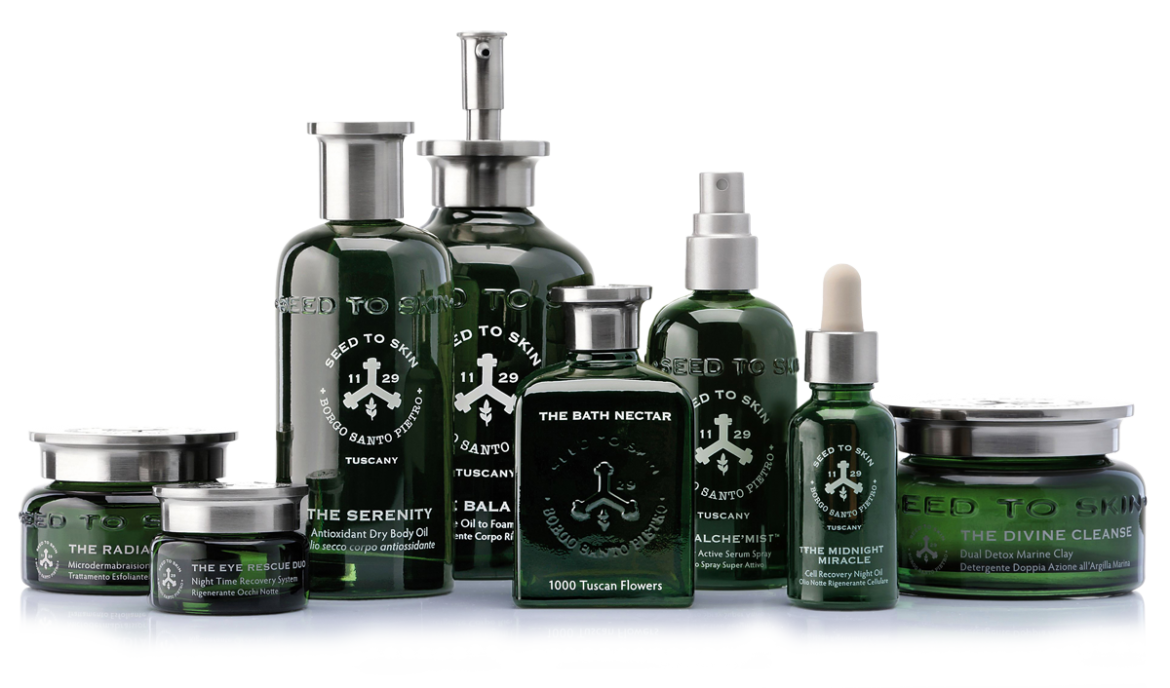 ---
Following my recent discovery of Seed To Skin, a nutrient rich skin care range grounded in science, I felt I owed it to my skin to experience their rather aptly named 'The Ritual' facial.
Born from the stunning Tuscan estate turned Spa – Borgo Santo Pietro, Seed To Skin is created using the purest natural raw ingredients, many of which are sourced from their very own 220-acre organic farm. Provenance and sustainability are at the core of their philosophy and with their on site state-of-the-art laboratory, they are dedicated to transparency. Founded by skin expert Jeanette Thottrup and formulated by Cosmetologist Anna Buonocore, Seed To Skin bridges the gap between nature and science and each product is formulated with highly effective botanicals proven to reach the skins deepest layers, delivering long lasting results.
Tracey, who has played an integral role in the brands growth over the last several years, carried out the facial. She knows each product inside and out and expertly advises on the best products based on your skin type.
I hop on to the couch, get myself comfortable and eagerly await the Ritual that's about to commence. Tracey starts by applying 'The Divine Cleanse', a luxurious detoxifying balm cleanser and gently massages it in to my skin. It contains marine plankton to boost the skins elasticity and green clay to aid in drawing out impurties. It is then removed with warm cotton flannel cloths. My skin already feels perked up. My mind and body slip into a deeper state of relaxation.
Next up comes the 'The Radiance' microdermabrasion, a gentle exfoliating scrub, removing the build up of dead skin cells. Tracey massages this into my skin in a gentle circular motion and then carefully wipes it away.
This is followed by a dreamy facial massage using 'The Midnight Miracle', a deeply nourishing oil containing an active blend of skin loving vitamin A, E, rosehip seed oil, and hyaluronic acid. The massage sends me in to a sleepy slumber as it extends to my neck and shoulders with sweeping strokes, dissolving any built up tension. The pressure is firm yet gentle and my skin feels wonderfully invigorated.
Tracey then applies 'The Peace', a probiotic pink clay mask to calm sensitive skin. Upon application, the creamy coolness soothes my stressed out skin. Whilst the mask gets to work, Tracey works her magic hands over my tired legs and feet, massaging and pummelling any knots away. Not a single toe gets left out. This is followed by an arm and hand massage and by this point I've allowed my body and mind to fully melt away and fear I may not be able to peel my relaxed body off the bed!
The mask is removed and a gentle spritz of 'The Alche'Mist' is applied. This is a spray serum with an advanced molecular delivery system carrying the active molecules to the deepest layers of the skin to activate cell regeneration. Finally my thoroughly cleansed and pampered skin is moisturised with 'The Cure', a collagen boosting, cell-plumping cream containing probiotics to balance and strengthen the skins natural barrier. The Ritual was complete. I lay there for a few moments, take some deep breaths and let the calm wash over me. Bliss.
The Ritual, and a ritual it is indeed was a deeply relaxing experience. I felt thoroughly pampered from head to toe and it left my tired skin feeling & looking clean, plump and glowing. I've now just discovered another reason to hang out in Liberty!
The Ritual Facial by Seed To Skin costs £120 (1 hour)
The price is redeemable against any skincare products purchased at your appointment to the value of £120 or over

---