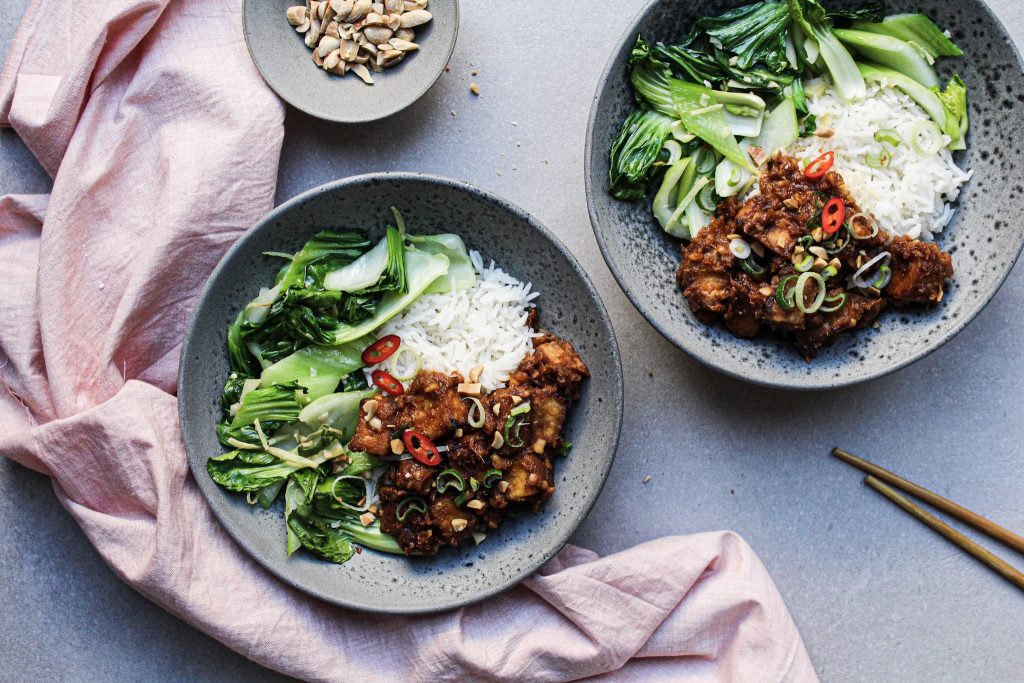 Sticky, sweet, zesty and with a little chili kick. This dish tastes like a naughty take away yet it's full of the good stuff. It has to be one of my favourite recipes to date! It provides a good helping of plant-based protein from the tofu, anti inflammatory ginger and garlic, liver-loving bok choy and super comforting basmati white. I'm pretty confident you'll agree that this one is an absolute winner!
---
prep time: 20 minutes cook time: 30 minutes serves: 2-4
---
INGREDIENTS
for the marinade
2 Tbsp tamari soy sauce
1 Tbsp maple syrup
Juice of ½ lime
1 Tbsp toasted sesame oil
for the sticky peanut sauce
3 Tbsp peanut butter (I use crunchy)
1 Tbsp toasted sesame oil
1 Tbsp Sriracha chilli sauce
2 Tbsp maple syrup
1 Tbsp fresh ginger ~ minced
1 clove garlic ~ minced
4 Tbsp water
Juice of ½ lime
other ingredients
1 block (280g) of firm tofu ~ cut into cubes
X 2 heads of bok choy ~ roughly chopped
1 clove garlic ~ finely chopped
3cm piece of fresh ginger ~ finely chopped
¼ cup of roasted peanuts ~ roughly chopped
4 spring onions ~ finely sliced
250g white basmati rice

½ cup of corn flour ~ for coating the tofu
METHOD
Preheat the oven to 200°/180°fan/gas 6. Line a baking tray with parchment paper.
Start by making the marinade – place all the ingredients into a bowl and mix all together. Add the tofu cubes to the marinade bowl and gently spoon the marinade over the tofu to coat it. Set aside and leave it for 10 – 15 minutes. (note: this step can also be done the day before).
Whilst the tofu is marinating, prep and chop the garlic, ginger, pak choy and spring onions.
Add the corn flour to a shallow bowl and piece by piece, take the marinated tofu and roll into the corn flour, ensuring it's evenly coated. Then place onto the parchment lined baking tray. Repeat this process with the rest of the tofu and place into the oven for 20-25 minutes, turning the tofu half way through the baking time.
For the sticky sauce, place all the ingredients into a mixing bowl and combine all together with a whisk or fork. Add any remaining marinade too! You can add a little more water or lime juice if it needs loosening up.
Next, cook the rice according to packet instructions. Then heat a little toasted sesame oil in a medium – large frying pan over medium heat. Add the chopped ginger and cook for 2-3 minutes, then add the chopped garlic and cook for 1 minute (try not to let it brown). Add the bok choy and a splash of water. Let it steam for 1 minute, stirring frequently and then remove from the pan.
Remove the tofu from the oven. Heat a little more toasted sesame oil in the same pan over medium heat. Add the tofu cubes to the pan, let them cook for a minute to get them extra crispy! Then add the sticky peanut sauce and stir around for a few minutes until it starts to bubble and caramelise.
To serve, add some rice to a bowl then add the sticky peanut tofu and the bok choy. Top with the spring onion, roasted peanuts and a squeeze of lime juice. Enjoy!
NUTRITIONAL BROWNIE POINTS
Tofu is a fantastic source of plant based protein and contains all 21 amino acids, 9 of which are essential meaning they must be obtained through diet. It is also a great source of calcium, manganese, copper and selenium.
Manganese is needed to make manganese superoxide dismutase (MnSOD); one of the most important antioxidants in the body. Each of our cells contain a mini organ called mitochondria and it's here that 90% of our bodies energy is made. Mitochondria, is often referred to as the 'powerhouse' of the cell. A decrease in MnSOD can have a negative impact on mitochondrial function and the overall health of our cells.
Bok choy is rich in vitamin c and in addition to it's antioxidant properties, vitamin c is essential for collagen production in the body. Collagen is needed to keep our skin firm and well supported and overtime it can will breakdown and degrade so it's important ensure we have optimal levels of vitamin c to provide extra support to synthesise more collagen.
Vitamin C also protects our skin cells from UV radiation and supports skin barrier function.
Bok choy also belongs to the cruciferous family along with other vegetables like broccoli, sprouts, cabbage and radish to name a few. Sulforaphane is a compound found in all cruciferous veg and has been extensively studied due to it's anticancer properties.
Ginger root contains a very high level of total antioxidants (3.85mmol/100g), surpassed only by pomegranate and some other berries.
Numerous studies have demonstrated the anti inflammatory effects of ginger. It can inhibit the release of pro inflammatory chemicals in the body.
The effectiveness of ginger in preventing and suppressing cancer growth has also been widely studied. It has the ability to decrease cancer cell proliferation and to induce cancer cell death.
Peanuts are an excellent source of protein and dietary fibre providing 5-10% of daily fibre requirements in one 30g serving. They are also a good source of vitamin e, providing antioxidant properties and protecting our cells from oxidative stress.

---
---
---
References
Barbour, J.A. Howe, P.R.C. Coates, A.M. (2015). 'Effect of 12 Weeks High Oleic Peanut Consumption on Cardio Metabolic Risk Factors and Body Composition', Nutrients, 7 (9), pp. 7381-7398. [Online]. Available at: https://www.ncbi.nlm.nih.gov/pmc/articles/PMC4586538/
Bode, A.M. Dong, Z. (2011). 'The Amazing and Mighty Ginger', Herbal Medicine: Biomolecular and Clinical Aspects. 2nd Edition. [Online]. Available at:https://www.ncbi.nlm.nih.gov/books/NBK92775/?report=reader
Crisan, D. Roman, I. Badea, R. (2015). 'The role of vitamin C in pushing back the boundaries of skin aging: an ultrasonographic approach', Clinical, Cosmetic and Investigational Dermatology, (8), pp.463-470. [Online]. Available at: https://www.ncbi.nlm.nih.gov/pmc/articles/PMC4562654/
Holley, AK. Bakthavatchalu, V. St Clair, DK. (2011). 'Manganese Superoxide Dismutase: Guardian of the Powerhouse' Molecular Sciences, 12 (10), pp. 7114-7162. [Online]. Available at:https://www.ncbi.nlm.nih.gov/pmc/articles/PMC3211030/.
Liu, P. Wang, W. Bao, Y. (2018). 'Chemopreventive Activities of Sulforaphane and It's Metabolites in Human Hepatoma HepG2 Cells, Nutrients, (5), pp.585. [Online]. Available at: https://www.ncbi.nlm.nih.gov/pmc/articles/PMC5986465/
Pullar, JM. Carr, AC. Vissers, MCM. (2017). 'The Roles of Vitamin C in Skin Health', Nutrients, (8), pp.866. [Online]. Available at: https://www.ncbi.nlm.nih.gov/pmc/articles/PMC5579659/
Su, X. Jiang, X. Xin, Y. (2018). 'Anticancer Activity of Sulforaphane: The Epigenetic Mechanisms and the Nrf2 Signaling Pathway', Oxidative Medicine and Cellular Longevity, 5438179. [Online]. Available at: https://www.ncbi.nlm.nih.gov/pmc/articles/PMC6011061/#!po=1.56250
---