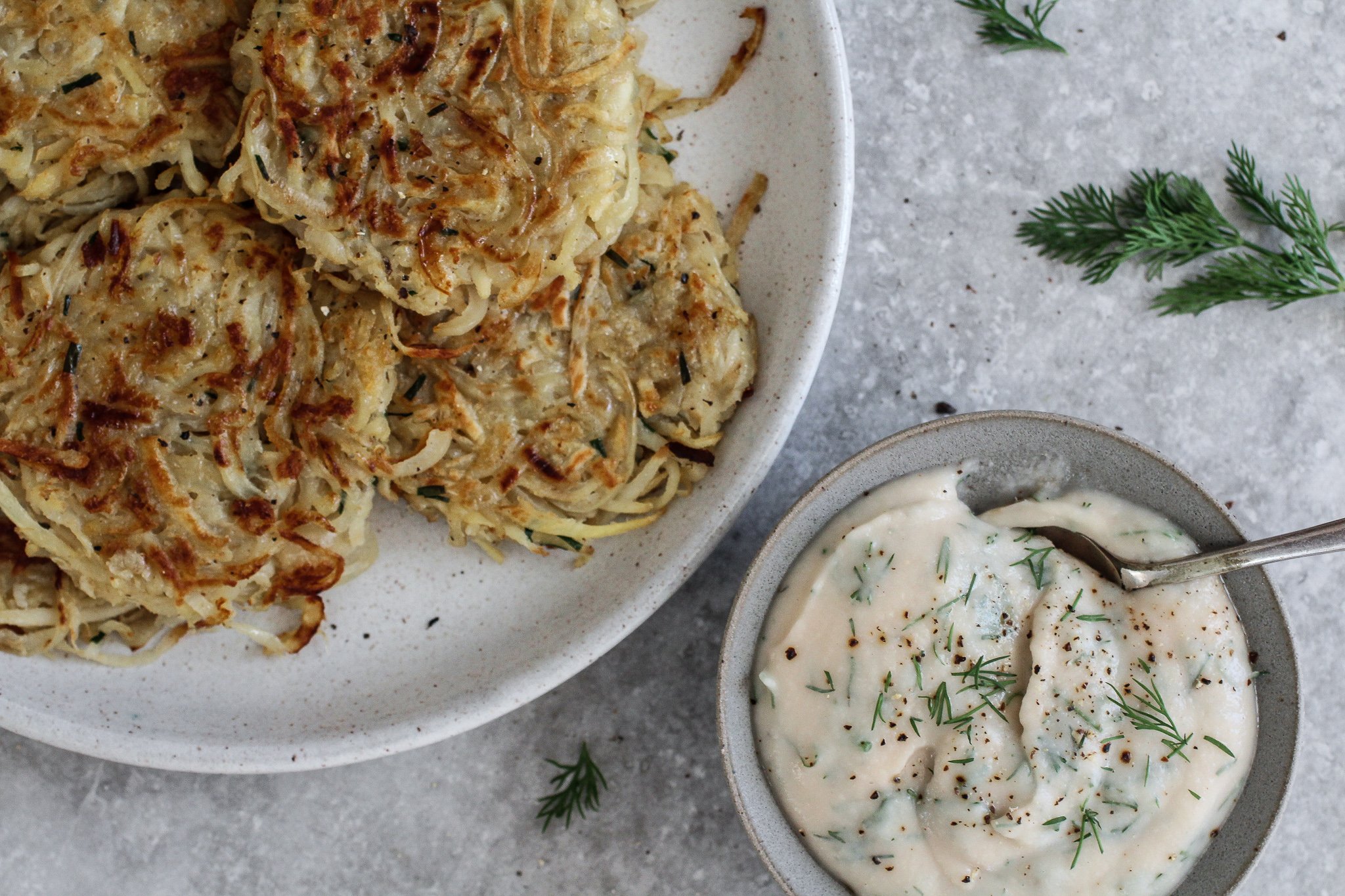 ---
These rostis make for the perfect brunch or side accompaniment. They're full of flavour, the edges crisp up beautifully and create a delicious texture. The heat of the horseradish works perfectly with the aromatic fresh dill and combined with the earthy parsnip flavour it's a winning flavour combo. You can refrigerate up to 5 days and freeze up to 3 months. Hope you like these rostis as much as I do!
---
prep time: 20 minutes cook time: 35 minutes serves: makes 10 rostis
---
INGREDIENTS
for the rostis
2 parsnips ~ grated
1 medium potato ~ grated
2 medium onion ~ finely diced
2 Tbsp fresh chives ~ chopped
3 cloves of garlic ~ crushed
2 Tbsp olive oil
5 Tbsp oat flour
½ tsp Himalayan salt
pinch black pepper
for the dill & horseradish dip
400g cooked haricot beans
8cm piece of fresh horseradish root ~ finely grated
Juice of half a lemon
Small bunch of fresh dill finely chopped
4 Tbsp oat milk
½ tsp Himalayan salt
pinch of black pepper
METHOD
Start by making the dip. Drain the haricot beans and place in a blender along with the horseradish, lemon juice, oat milk, salt & pepper. Blend well (add more oat milk if needed) and then transfer to a bowl and stir in the chopped fresh dill. Pop in the fridge!
Heat a tablespoon of olive oil in a large pan over medium heat. Add the onions and cook for 3-5 minutes until they become soft and translucent. Add the garlic and stir in for a couple of minutes. Then add the parsnip, potato, salt and pepper and cook for several minutes until the mixture softens down, stirring regularly.
Transfer the mixture into a large bowl and add the flour bit by bit. Mix in with your hands. It will start to feel a little sticky and bind together. Add more flour if needed.
Take a small handful of the mixture and in the palm of your hands, press together firmly and shape into flat rostis. Don't worry if bits of the mixture wont fully hold together as these bits will crisp up beautifully. Once all the rostis have been made, place on a plate and pop in the fridge for 30 minutes to set. This will make it easier to cook again. You can however, leave out this step and continue to the next.
In the same pan, heat up more of the olive oil over medium heat. With a spatula, gently transfer the rostis to the pan and cook for a few minutes on either side, until they start to turn golden brown and the edges crisp up. Repeat this step with the rest of the rostis.
Serve warm with the dill & horseradish dip! Enjoy!

---