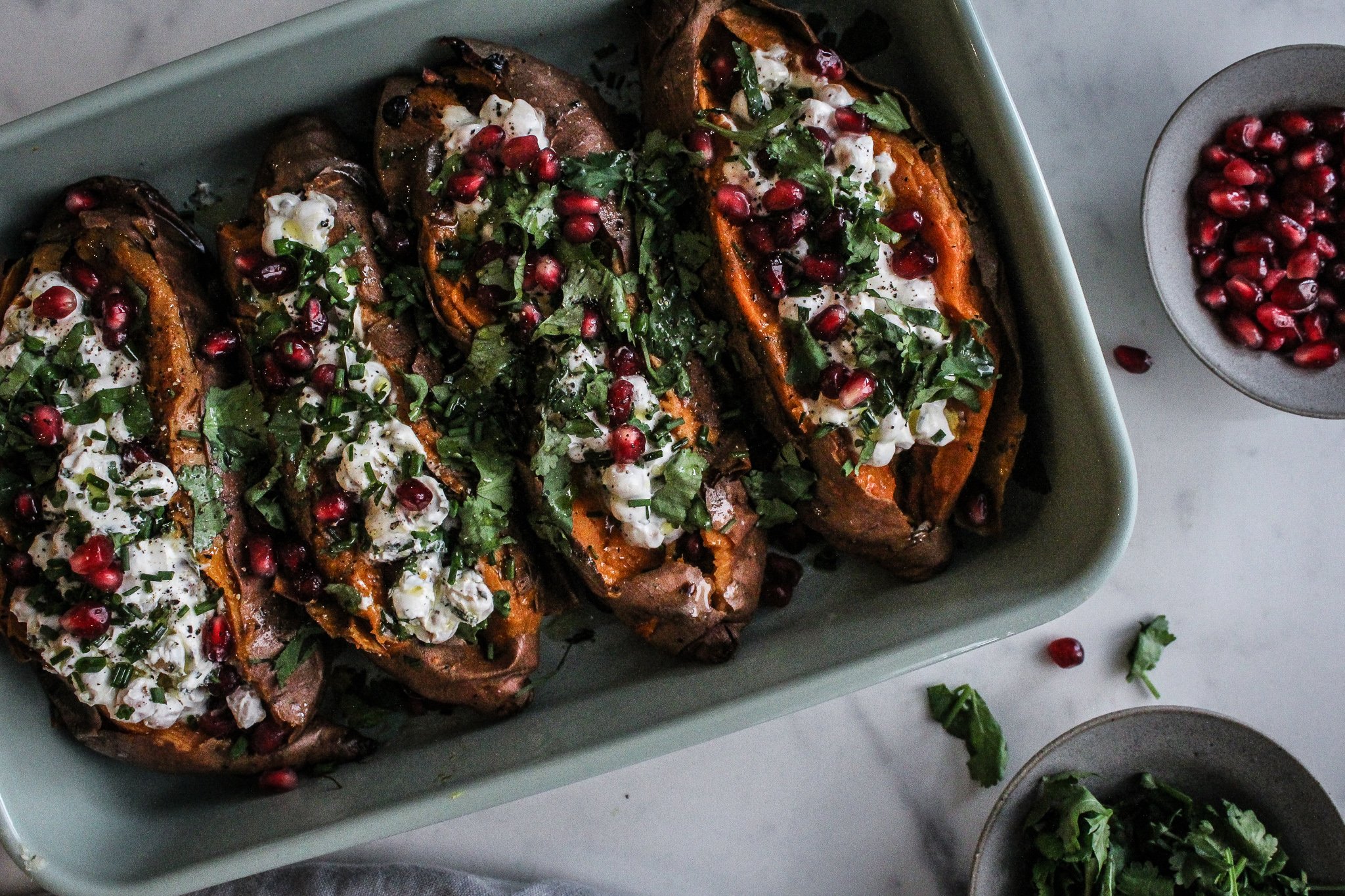 ---
Sweet potatoes are the ultimate comfort and they are wonderfully versatile. In this fuss free recipe I have teamed them up with a tangy & creamy chickpea, mint & yogurt filling and layered with chives, coriander and pomegranate for added freshness! They're also delicious eaten cold and make the perfect take to work lunch!
---
prep time: 15 minutes   cook time: 50 minutes   serves: 4
---
INGREDIENTS
4 large sweet potatoes ~ skins left on
165g/1 cup cooked chickpeas
285g/1 cup unsweetened greek yogurt
small bunch of fresh coriander ~ roughly chopped
small bunch of fresh mint ~ finely chopped
small bunch of fresh chives ~ finely chopped
40g/1/4 cup pomegranate seeds
juice of half a lemon
1/2 Tbsp olive oil
1/2 tsp himalayan salt
black pepper
METHOD
Preheat oven to 180°C/350°C/gas 4.
Scrub the sweet potatoes, pat them dry with a tea towel, then rub with a little olive oil and a pinch of salt and black pepper. Roast on a baking tray for about 40-50 minutes.
In a medium bowl, add the yogurt, fresh mint, lemon juice and a pinch of salt. Mix together and then add the chickpeas and stir in until coated.
Once the potatoes are ready, remove from the oven and let them sit for 5 minutes. Then cut them down the middle, ensuring you don't take the knife all the way through. Pinch the sides gently to open them up and fill with the yogurt & chickpea mixture.
Top with the fresh coriander, chives and pomegranate. Serve and enjoy!
NUTRITIONAL BROWNIE POINTS
Sweet potato contains high levels of the carotenoid beta-carotene, a precursor to vitamin A, which is a key player in immunity. Beta carotene is also a potent antioxidant and free radical scavenger working to protect our DNA from oxidative damage.

---
---
References:
Ross, C.A. (2012). 'Vitamin A and retinoic acid in T cell-related immunity1,2,3,4', American Journal of Clinical Nutrition, (5), pp.1166S-1172S.