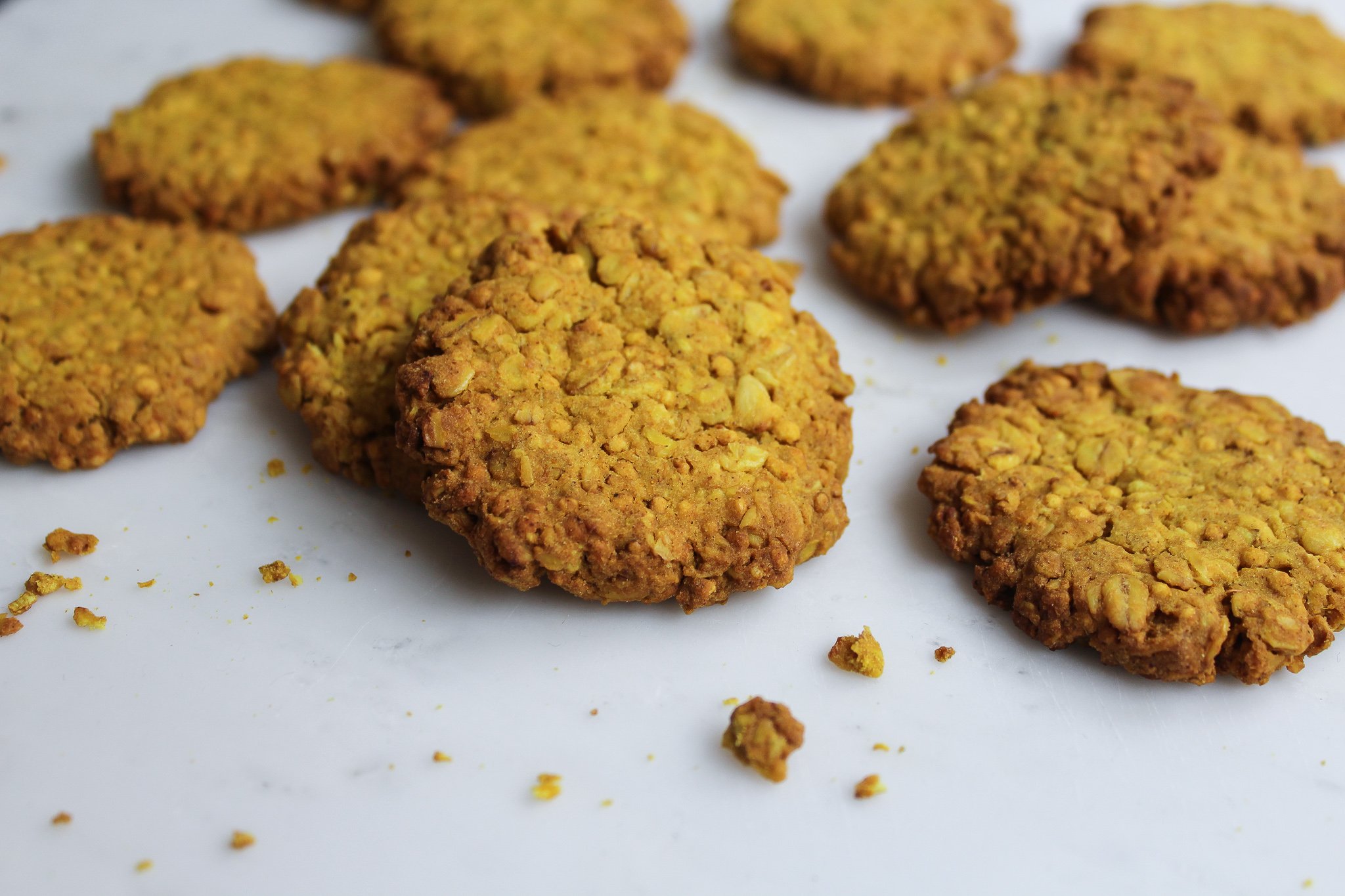 ---
These crumbly and crispy cookies have a beautiful spice running through them owing to the turmeric and ginger, which marry beautifully in my opinion! They're great for breakfast or a mid afternoon snack with your turmeric latte! They would also be incredible dunked in melted dark chocolate. Watch this space!
---
prep time: 10 minutes cook time: 20 minutes yield: 12 cookies
---
INGREDIENTS
90g/1 cup rolled oats
10g/1/2 cup puffed quinoa
6 Tbsp brown rice flour
2 tsp ground turmeric
3 tsp ground ginger
pinch ground black pepper
5cm piece of fresh ginger ~ peeled and fine grated/minced
1/4 cup coconut oil ~ melted
125ml/1/4 cup maple syrup
METHOD
Preheat oven to 180°C/160°C fan/gas 4 and line a baking tray with parchment paper.
Add all the dry ingredients to a large bowl and mix well.
In a small bowl, mix together the melted coconut oil, maple syrup and fresh ginger. Then add this to the dry mixture and stir well until all combined.
Divide the mixture and roll into balls, pressing the mixture together in the palm of your hands. Place on lined baking tray and flatten down with the back of a wooden spoon or the palm of your hand. Note: the mixture will be a bit crumbly so keep applying pressure when forming the cookie.
Place cookies in the preheated oven and bake for 15 – 20 minutes or until they turn a light golden colour. Remove from the oven and allow to cool before eating!
NUTRITIONAL BROWNIE POINTS
Numerous studies have shown curcumin, an active constituent of turmeric to exert direct regulative effects on the human gut microbiota. It has the ability to promote growth of the beneficial bacteria such as bifidobacteria and lactobacilli whilst inhibiting growth of pathogenic bacteria.
Curcumin has also been widely studied for it's anti inflammatory, antioxidant, antiaging and chemopreventive activities. It's bioavailability (absorption rate) is enhanced when combined with fats like coconut milk and piperine – an active constituent of black pepper.
---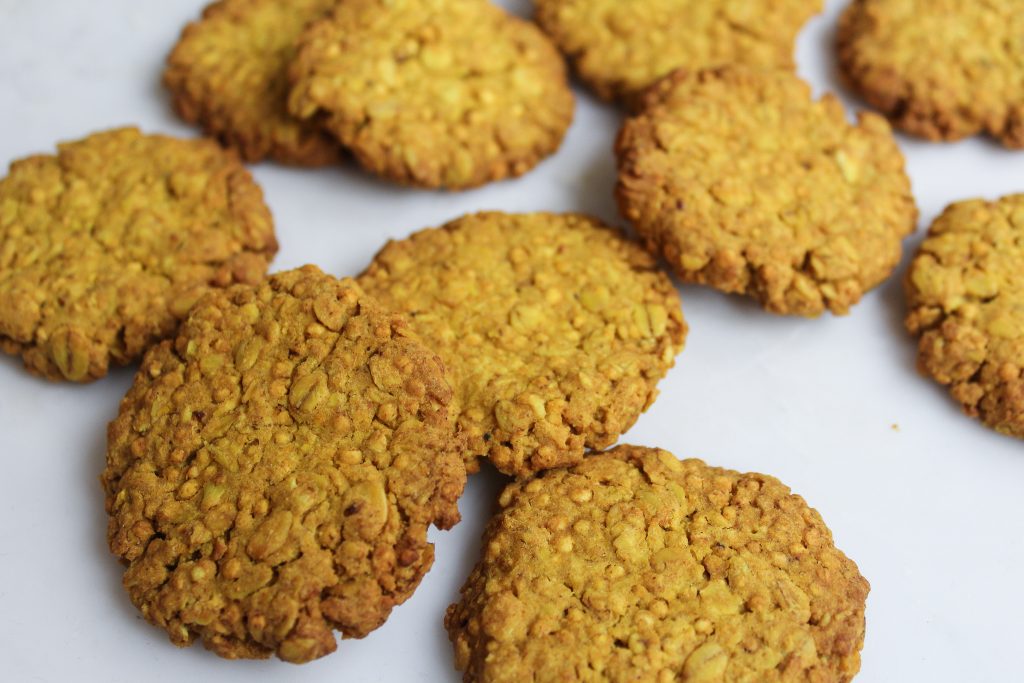 ---
References:
Ravalli, S. Szychlinska, M.A. Musumeci, G. (2018). 'Recently highlighted nutraceuticles for preventive management of osteoarthritis', World Journal of Orthopedics, (11), pp.255-261.
Zam, W. (2018). 'Gut Microbiota as a Prospective Therapeutic Target for Curcumin: A Review of Mutual Influence', Journal of Nutrition and Metabolism, 1367984.
---