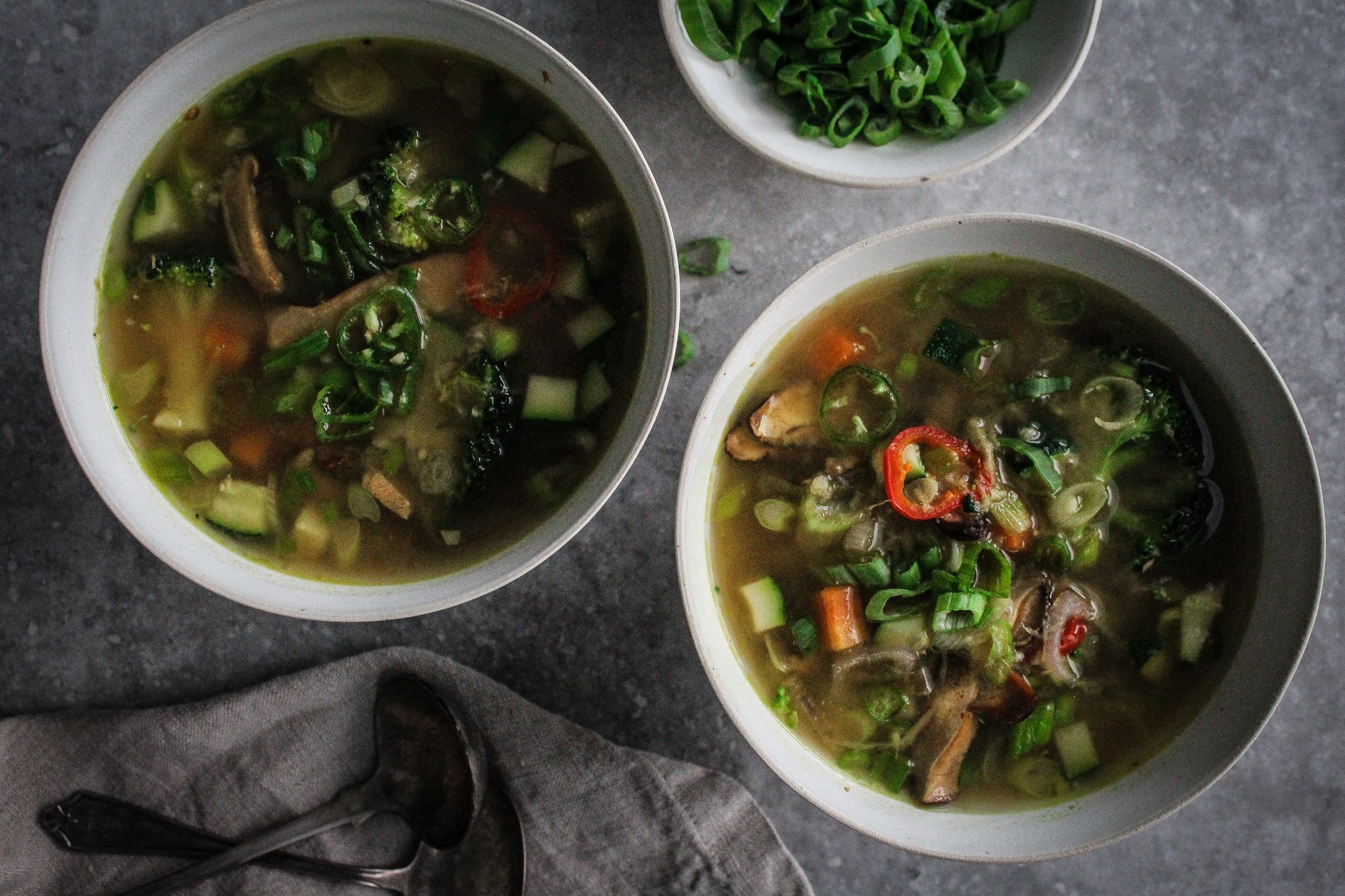 ---
This is a hug in a bowl! I've been craving nourishing broths lately and with the added ginger and garlic, this soup packs an anti inflammatory punch and perfect if you're feeling a little under the weather. The miso adds a rather moorish Umami flavour, giving it real depth. I've loaded this one up with carrots, courgette, broccoli and shallot however the veg can be pretty interchangeable and it works great with tofu too!
---
prep time: 15 minutes   cook time: 20 minutes   serves: 4
---
INGREDIENTS
1 carrot ~ diced
1 courgette ~ diced
1 banana shallot ~ sliced
8 spring onion ~ finely sliced
¼ cup dried shitake mushrooms
150g (roughly half a head) broccoli ~ cut into florets
½ red or green chilli ~ finely sliced
750ml/3 cups vegetable stock
750ml/3 cups filtered water
5cm fresh ginger ~ minced
4 garlic cloves ~ crushed
2 Tbsp white miso paste
Tbsp avocado oil (or any vegetable oil)
METHOD
Add the miso paste and 200ml of filtered water to a bowl and whisk until combined. Set aside.
Heat a tablespoon of oil in a large sauce pan over low – medium heat. Add the ginger, garlic and half the spring onions. Cook for a few minutes until fragrant. Keep stirring to avoid it sticking and burning.
Add the veg stock and 500ml of water and bring to the boil. Add the broccoli, courgette, carrot, shitake and shallot. Cook for about 5 minutes until the broccoli turns a vibrant green. You want to keep the veg al dente with a slight bite!
Add the chilli and the remaining spring onion and cook for another 2 minutes. Add the miso/water mix and stir in. Ladle into bowls and enjoy!
SERVE + GARNISH (optional)
Fresh Chilli
Fresh Coriander

---