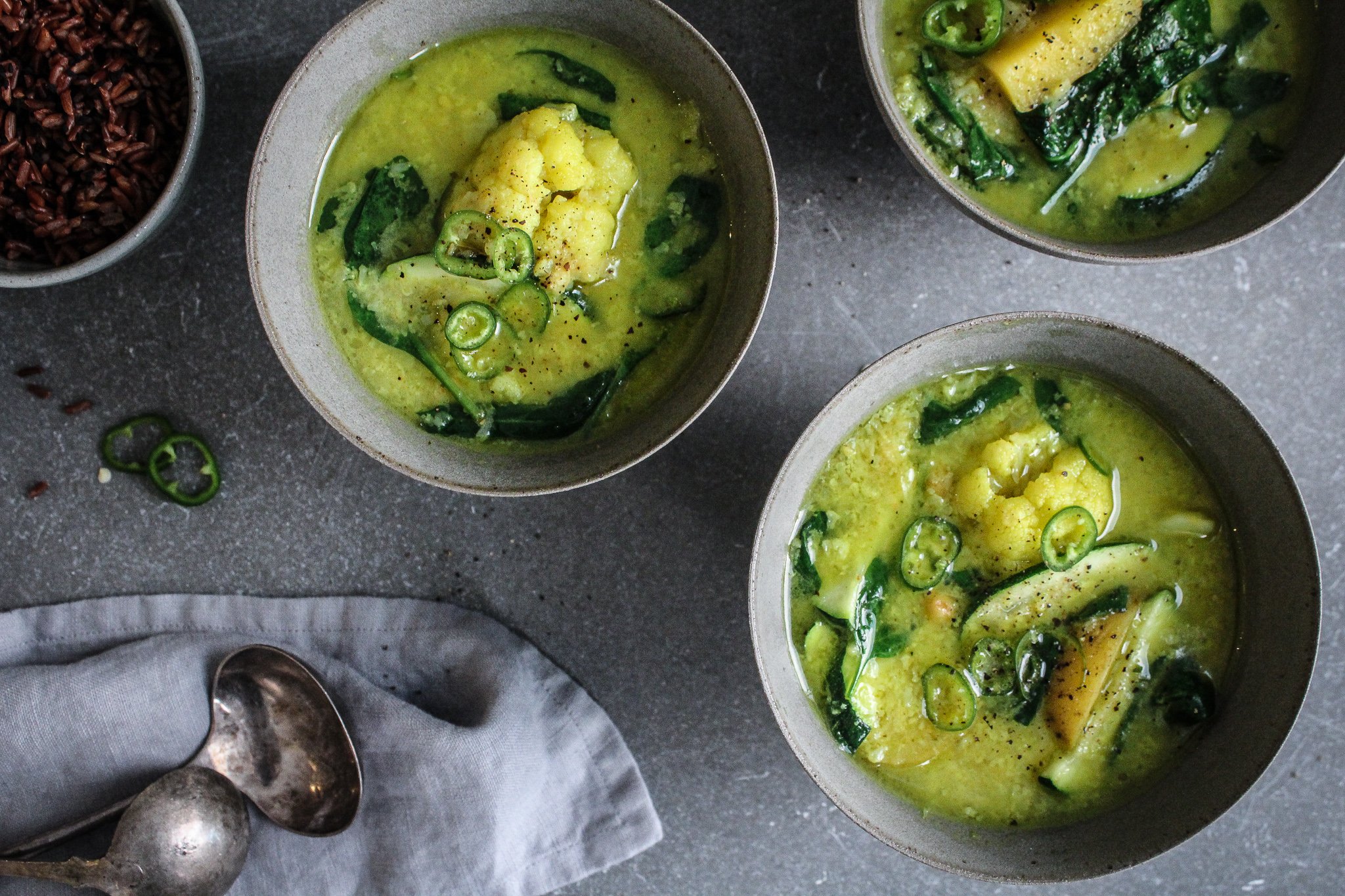 ---
Curries are one of my favourite things to cook and I believe it's down to the beautiful aromatic aroma that fills the kitchen. This one is on the mild side but if you like it extra spicy you can add another chilli to the paste. Turmeric is such a wonderfully healing spice that offers a multitude of health benefits so don't be shy going for seconds or thirds! Your body will thank you!
---
prep time: 15 minutes cook time: 35 minutes serves: 4
---
INGREDIENTS
For the paste:
1 banana shallot
2 green jalepeño chilli
3 cloves garlic
5cm fresh ginger
Small bunch fresh coriander ~ roughly chopped
1 Tsp ground coriander
1 Tsp ground turmeric
½ Tsp ground cumin
4 Tbsp avocado oil (or any veg oil)
Black pepper & salt
For the curry:
½ head of cauliflower ~ broken into florets
1 medium brown onion ~ diced
300g/1 cup baby new potatoes ~ cut into quarters
1 courgette ~ sliced
50g/1 cup baby spinach
400g/1 can coconut milk
200ml filtered water
1 Tbsp coconut oil
1 Tsp Himalayan salt
black pepper
METHOD
To make the paste, add all the ingredients to a food processor and blend until it forms a paste. Add a little water if needed. Scrape down the sides and keep pulsing until all combined. NOTE: This will make approx 8 tablespoons. You only need 4 for the recipe so you can freeze the rest ready to use another time!
In a large pan, heat the coconut oil over medium heat, add the onions and cook for about 5 minutes until they become translucent. Add the paste (4 tablespoons) and cook for a further 5 minutes until it becomes fragrant.
Add the potatoes, cauliflower and coconut milk, turn the heat up, bring to the boil and then reduce to simmer.
Once it's been cooking for around 20 minutes, you can then add the courgette and cook for around 5 minutes or until they turn a vibrant green. Try not to over cook! I prefer the courgette to have a bit of bite. Add the spinach right at the end and let it wilt down for a couple of minutes. Serve in bowls with rice or quinoa.
SERVE + GARNISH (optional)
Red rice
Fresh Coriander
Fresh green Chilli
NUTRITIONAL BROWNIE POINTS
Cauliflower belongs to the cruciferous family along with other vegetables like broccoli, sprouts, cabbage and radish to name a few. Sulforaphane is a compound found in all cruciferous veg and has been extensively studied due to it's anticancer properties.
Studies have also shown sulforaphane to be protective against neurodegerative diseases. It is able to cross the blood-brain barrier (BBB) – a highly selective semi permeable membrane that separates the brain and the blood. Once it crosses the BBB it accumulates in the central nervous system and exerts neuroprotective effects.
Numerous studies have shown curcumin, an active constituent of turmeric to exert direct regulative effects on the human gut microbiota. It has the ability to promote growth of the beneficial bacteria such as bifidobacteria and lactobacilli whilst inhibiting growth of pathogenic bacteria.
Curcumin has also been widely studied for it's anti inflammatory, antioxidant, antiaging and chemopreventive activities. It's bioavailability (absorption rate) is enhanced when combined with fats like coconut milk and piperine – an active constituent of black pepper.

---

---
References:
Liu, P. Wang, W. Bao, Y. (2018). 'Chemopreventive Activities of Sulforaphane and It's Metabolites in Human Hepatoma HepG2 Cells, Nutrients, (5), pp.585.
Ravalli, S. Szychlinska, M.A. Musumeci, G. (2018). 'Recently highlighted nutraceuticles for preventive management of osteoarthritis', World Journal of Orthopedics, (11), pp.255-261.
Su, X. Jiang, X. Xin, Y. (2018). 'Anticancer Activity of Sulforaphane: The Epigenetic Mechanisms and the Nrf2 Signaling Pathway', Oxidative Medicine and Cellular Longevity, 5438179.
Sun, Y. Yang, T. Zhang, F. (2017). 'Sulforaphane Protects against Brain Diseases: Roles of Cytoprotective Enzymes', Austin journal of cerebrovascular disease & stroke, (1), pp.1054.
Zam, W. (2018). 'Gut Microbiota as a Prospective Therapeutic Target for Curcumin: A Review of Mutual Influence', Journal of Nutrition and Metabolism, 1367984.