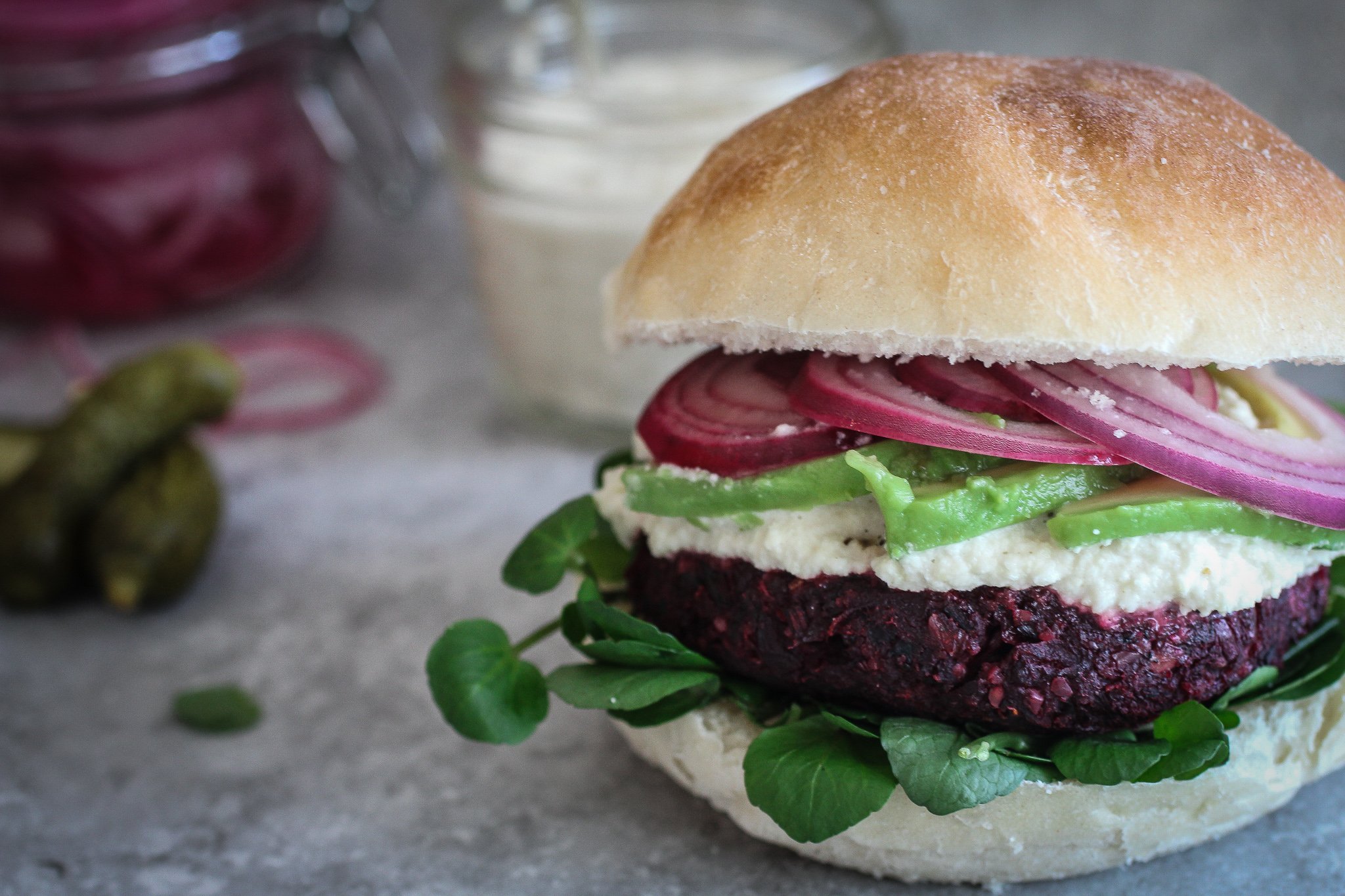 ---
A perfect meat free alternative! This beetroot burger is bursting with flavour and is packed with lots of plant based protein like chickpea, lentils and hemp hearts. It has a wonderful texture ~ soft and with a little crunch from the sunflower seeds. I love using beetroot and dill together in recipes and personally think they work beautifully. The earthiness of the beetroot is balanced perfectly by the aromatic, citrus notes of the fresh dill. I recommended making a batch of these and freezing them! You can dress them up with creamy avocado, some greens, and pickles. Horseradish also works very well with beets! Enjoy!
---
prep time: 40 minutes   cook time: 10 minutes   yield: 6 patties
---
INGREDIENTS
1 large beetroot ~ grated
2 medium onion ~ finely diced
100g/1 cup cooked chick peas
100g/1 cup cooked puy lentils
50g/1/2 cup oats (can be rolled or jumbo)
35g/ 1/4 cup sunflower seeds
3 Tbsp hemp hearts (shelled hemp)
1/2 tsp himalayan salt
4g /10 sprigs / 1/2 cup fresh dill ~ finely chopped
1 Tbsp avocado or olive oil
1 Tbsp chia seeds or milled chia
3 Tbsp filtered water
METHOD
Start by adding the chia to a bowl and cover with 3 table spoons of water. Gently mix and set aside. (This creates a gloopy mixture and is a replacement for an egg)
Start by grating the beetroot either manually or in a food processor. (tip: if using a manual hand held grater, take a take towel and cover whist grating as the beetroot juice can get a bit messy and it can stain!). Place some kitchen paper inside a bowl and add the grated beetroot. This will help to absorb excess liquid. Place a paper towel over the top and lightly squeeze out the moisture. Set the beetroot to one side.
In a medium-large frying pan, heat the oil over medium heat and add the onions. Cook for about 5 minutes until they become translucent. Add the grated beetroot and cook for a further 10 minutes. Season with a little salt and pepper then add the fresh dill and cook for another 2 minutes. Take off the heat.
Add the oats and salt to a high-speed food processer until it starts to look like a course flour. Then add the chickpeas, lentils, sunflower seeds, hemp hearts and 'chia egg'. Mix until the mixture starts to form a dough-like consistency.
Transfer the mixture to a large mixing bowl and add the cooked beetroot mix. With your hands mix it all together, divide into 6 and form the burger patties, packing the mix tightly (tip: have a bowl or sink of warm soapy water ready to wash your beetroot stained hands!)
Place the burger patties on a plate and refrigerate for 1-2 hours to let them firm up, making it easier to finish off the cooking process. You can also skip this step and jump straight to the next step if you wish!
Heat a little oil in a frying pan over low – medium heat. Place the burger patties in the pan (as many as you can fit in the pan without over cramming!) and cook for 3-4 minutes on each side until they brown slightly.
SERVE + GARNISH
Greens of choice; baby spinach, lettuce, watercress
Horseradish cashew cream
Pickled red onions
Sliced avocado
---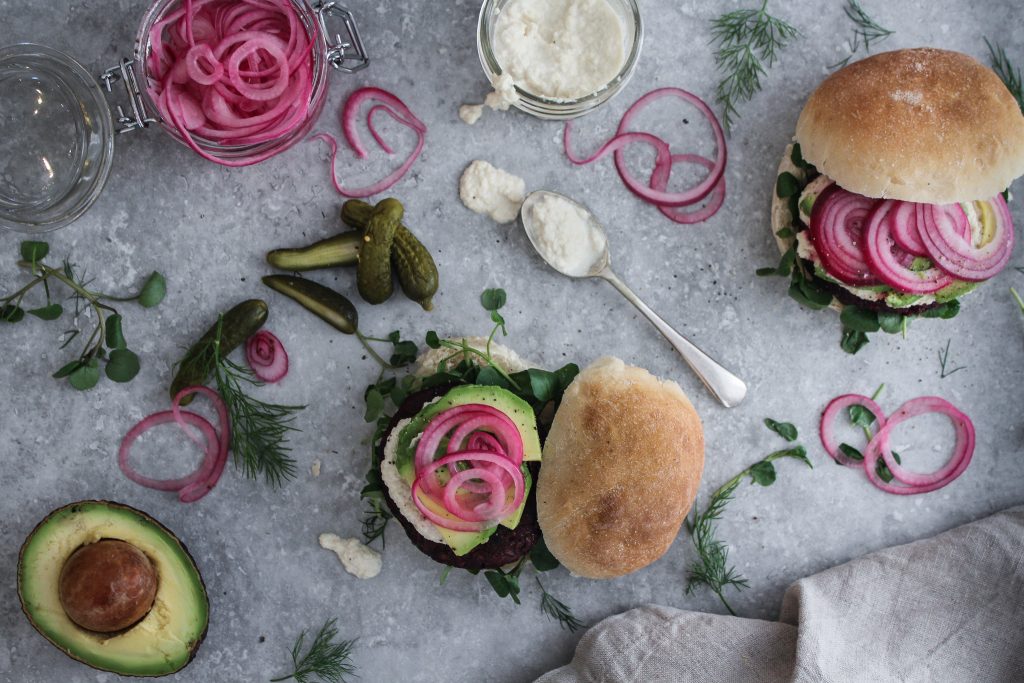 ---