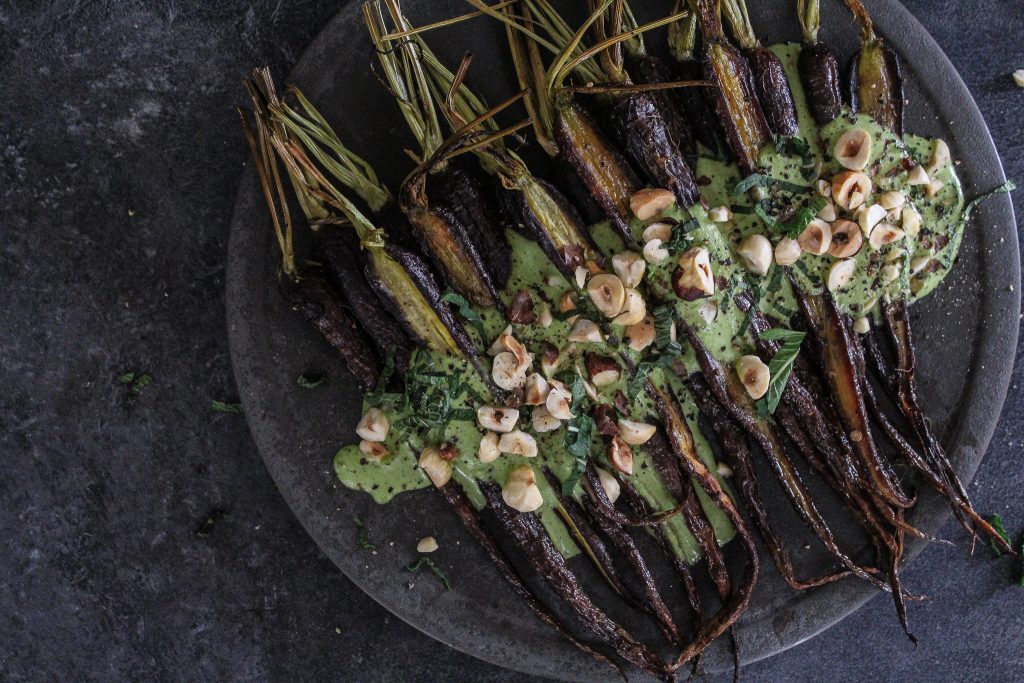 ---
How beautiful are these purple rainbow carrots?! When roasted, the sweetness of this root veg really comes through and is perfectly complemented by the tangy tahini mint dressing. It's such a simple dish to make and makes a wonderful side accompaniment to many meals. If you can't get your hands on purple carrots, the regular orange variety will work too. Enjoy!
---
prep time: 10 minutes cook time: 45 minutes serves: 4-6
---
INGREDIENTS
8 medium carrots ~ cut in half lengthways
¼ cup hazelnuts ~ chopped
Olive oil
for the dressing
1 clove of garlic
Juice of 1/2 lemon
25 mint leaves (keep a few back for garnish)
4 Tbsp filtered water
2 Tbsp tahini
¼ Tsp Himalayan salt
pinch of black pepper
METHOD
Preheat oven to 190°/fan 170°/gas 5
Lightly coat the carrots in olive oil and place in an oven-proof dish or baking tray. In a separate dish, add the chopped hazelnuts. Place in the oven and roast the hazelnuts for 10-15 minutes and the carrots for 40-45 minutes, turning half way.
To make the dressing, place all the ingredients in a high speed blender and whizz up until blended to a smooth consistency. Add a little more water if needed.
To serve, spread the carrots out on to a serving platter and spoon over the dressing. Then top with the roasted hazelnuts and some finely chopped mint.

---
---